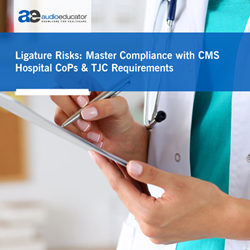 Protecting at-risk patients begins with good risk assessment.
DURHAM, N.C. (PRWEB) August 13, 2018
AudioEducator, a division of audio conference and corporate education leader ProEdTech, will host the live webinar "Ligature Risks: Master Compliance with CMS Hospital CoPs & TJC Requirements" with industry veteran Sue Dill Calloway, RN, MSN, JD on Thursday, August 16, 2018 at 1:00 PM ET.
According to the Centers for Disease Control and Prevention (CDC), suicide was the leading cause of death in 2016. Unfortunately, hospitals are not exempt from this statistic, a reality that led the Centers for Medicare & Medicaid Services (CMS) and the Joint Commission (TJC) to buckle down on enforcement of patient safety rules. Therefore, one needs to be aware of – and compliant with – CMS & TJC standards.
In this live webinar, hospital compliance consultant Sue Dill Calloway will provide in-depth instruction on how to comply with CMS and TJC 13 requirements. She'll explain key initiatives, such as the zero-suicide campaign and the TJC sentinel alerts on suicide, and provide specific actions to correctly gauge patients' suicide risk, reduce ligature risks, correct environmental risk, and create safe rooms. Calloway will also clear the confusion on documentation rules.
This webinar will provide the tools needed to asses patients' mental health—and address high-risk patients' needs, such as by assigning a 1:1 observer. Attendees will have a solid grasp on the various recommendations for psych units, psych hospitals, and general acute care settings, and be prepared to make needed improvements to the hospital policies and practices to ensure the safety of even the most at-risk patients—all while complying with CMS and TJC rules.
The session will provide valuable insights to hospital risk managers, legal counsels, compliance officers and other related professionals on:

How CMS defines "ligature risk"
What to make of CMS's 13-page memo on ligature risk management
How the changes to tags 144 (patient rights) & 701 (facility services) impact your hospital
What the zero-suicide campaign is—and why you need to know
How to comply TJC' 13 requirements on ligature risk management
Which assessment tools to use to determine suicide risk
What design guides you can use to create safe rooms
How to reduce ligature risk
How the following relate to ligature risk management:
o TJC Sentinel Event Alerts on Suicide
o National Patient Safety Goal (NPSG) 15
o FAQs on ligature risk
o The SAFER matrix
o EC.02.06.01 EP 1 requirements
For more information and to register, visit: https://www.audioeducator.com/hospitals-and-health-systems/ligature-risks-management-cms-hospital-cops-tjc-requirements.html
Get $40 off on our conferences and webinars. Use Code PRWEB40 on checkout (applicable for all purchases).
About ProEdTech
ProEdTech is a leading source of knowledge and training for professionals in over 15 industries, serving individuals, businesses and their employees around the globe. It offers webinars, online conferences, seminars, boot camps, books, DVDs, white papers, industry reports and other learning tools from industry experts and insiders who provide a fresh perspective on key issues, trends and regulations in order to simplify governance, risk and compliance (GRC) for enterprises and industry professionals.
ProEdTech's AudioEducator webinars offer updates, regulatory knowledge and information on the latest news in various medical specialties, as well as coding and billing updates, and analysis of regulations that affect ambulatory surgical centers, home health, long term care and hospice facilities, hospitals and healthcare systems, health insurers and physician practices. Webinars are also offered through AudioSolutionz in the technology, human resources, construction and housing, ICT and telecom, manufacturing, consumer packaged goods and retail, safety and security, transportation, energy and environment, education, trade, and chemicals industries. ProEdTech's Eli Financial platform offers tax and banking professionals, focusing on providing high-quality online training products customized for U.S. lenders and tax practitioners that include the latest updates from the IRS, CFPB and other regulatory authorities. ProEdTech regularly provides professionals the opportunity to get answers to their most complex questions directly from experts, without having to attend costly live conferences. To learn more, visit: http://www.proedtech.com.