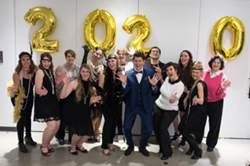 "We love taking brands to the next level through a combination of thoughtful strategy and effective tactics." - Eric Holtzclaw, Dojo Master, Chief Strategist
ATLANTA (PRWEB) January 17, 2020
Only one year ago, an expert marketing team formed in Atlanta, known as Liger Partners, impacting some of the biggest and most important brands.
Liger Partners is nacho typical marketing team – providing customized strategy and agile capabilities for execution to each amazing client. Ligers - as they call themselves - are serious about strategy, marketing, operations, and tater tots.
It's no coincidence that Liger Partners announced its launch last year on January 17th, the 15th anniversary of Napoleon Dynamite's premiere at Sundance Film Festival. The name Liger comes from a scene in the movie where Napoleon is caught drawing a liger – a cross between a lion and tiger – which he says is his favorite animal, "…bred for its skills in magic."
"We're honored that so many brands here in Atlanta and across the country have chosen to partner with Liger," says Eric Holtzclaw, Chief Strategist at Liger Partners. "We love taking brands to the next level through a combination of thoughtful strategy and effective tactics."
Liger Partners celebrated with a Roaring 20's party for their clients on the eve of their one-year anniversary.
"We wanted to thank our clients for partnering with us this year," explains Managing Partner, Whitney Mendoza, "What could be better than serving up tater tots, a Napoleon Dynamite favorite, to 60+ of our bestest buds?"
About Liger Partners
Liger Partners is a full-service agency providing marketing, strategy and execution for clients with a side order of personality. Liger Partners was founded in 2019 by combining the brainpower and resources of two powerhouse Atlanta-based companies. For more information about Liger Partners, visit http://www.ligerpartners.com.