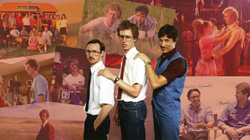 In regard to working with Liger Studios, Director Jared Hess says, "...[they're] pretty much my favorite production company."
ATLANTA (PRWEB) April 01, 2021
Liger Studios is set to begin production on Napoleon Dynamite Dos: Summer's Revenge, the sequel to the cult comedy Napoleon Dynamite, starring Jon Heder and Efran Ramirez and directed by Jared Hess.
Napoleon Dynamite Dos: Summer's Revenge returns with the original cast 18 years after Summer Wheatley's defeat by Pedro Sanchez in the 2004 Class Presidential Election at Preston High School in Idaho.
Jon Heder makes his return to the Idaho Plains for this sequel after his most recent work with co-star Michael Gross in Tremors: Shrieker Island. The film documents the trio of friends, Napoleon Dynamite, Pedro Sanchez, and Deb Bradshaw as they take on Pocatello, a nearby Idahoan city with a population 10 times the size of their hometown. While in the interview process for a promotion to general manager at the local Costco, Pedro finds himself vying for the position against a familiar competitor, Summer Wheatly. Deadpan hilarity and quirky comedy ensue as the high school misfits continue to find their sweet spot in all-American geekdom with more Tina the llama, cage fighting, and of course, Liger drawings.
In regard to working with Liger Studios, Director Jared Hess says, "...[they're] pretty much my favorite production company."
For fans of the cult classic, don't break out your "Vote for Pedro" t-shirts too fast. This feature film won't be heading to the cinemas anytime soon because this is an April Fool's Day prank brought to you by Liger Partners. But don't get too upset, as of September 2020, John Heder is open to returning for a real Napoleon Dynamite 2.
About Liger Studios
Liger Studios is a subsidiary of Liger Partners with award-winning producers, Isaac Mendoza and Ingrid Schmidt, accompanied by upcoming talent in the industry and state-of-the-art equipment. Liger Partners is a full-service marketing firm delivering everything from an engaging social presence to a full outside marketing solution crafted to an organization's specific needs. Why the name Liger? Because, much like the mythical creature from the movie Napoleon Dynamite, we're a bunch of marketing and operations experts bred for our skills in magic. …and our awesome dance moves and mad nunchuck skills aren't half bad either. Learn more at http://www.ligerpartners.com.