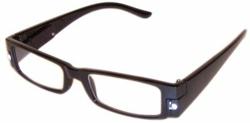 These lighted reading glasses solve the problem of reading smaller print in dimly lit areas.
Adel, IA (PRWEB) July 09, 2013
M and M Beauty is pleased to announce the release of their new revolutionary Lighted Reading Glasses.
Reading glasses are indispensable to anyone that has difficulty reading without the aid of reading glasses. When a person's eyesight starts to fail, often times the lack of proper lighting makes the problem worse. Having reading glass that have an external light during this situation can be very helpful and these new lighted reading glasses from M and M Beauty help solve this problem.
These new lighted reading glasses from M and M Beauty have small LED (Light Emitting Diode) lights and are very stylish. There are several different styles that are available. The range of magnification of the reading glasses range from 1.5 to 3.0. These lighted reading glasses ship with 6 replacement batteries. The lighted reading glasses from M and M Beauty are very lightweight but powerful. The frames are durable and they don't easily break. The built-in LEDs are angled 5 degrees downward to give you the exact brightness when turned on.
These revolutionary lighted reading glasses are now available on Amazon only. For more information go to http://www.amazon.com/Reading-Glasses-Lighted-1-5/dp/B007U7IF8K
About M&M Beauty and Wellness, LLC
M&M Beauty and Wellness, LLC is committed to delivering quality products that support health and well-being naturally. All of the company's products are made in the USA in FDA-Certified and Inspected manufacturing facilities.