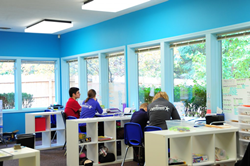 This partnership has created a wonderful opportunity for our organizations to advance our shared mission of providing the best possible services to the children and families we serve.
MISHAWAKA, Ind. (PRWEB) June 23, 2020
Lighthouse Autism Centers, LLC ("Lighthouse" or the "Company"), a leading provider of center-based, Applied Behavioral Analysis ("ABA") therapy, today announced the acquisition of Autism Therapy Services, LLC ("ATS"), a rapidly-growing, center-based ABA provider in the greater-Indianapolis market. This acquisition will make Lighthouse Autism Center one of the largest ABA providers in the state of Indiana. This acquisition will allow Lighthouse to expand its service area, and accelerate the Company's strategy to bring the highest-quality ABA service to communities across Indiana and Michigan.
"The ATS team has strong, data-driven, clinical processes in place and a passion for helping children and families, two critical areas that align perfectly with the Lighthouse mission and values," said Gregg Maggioli, Lighthouse's co-founder and CEO. "We couldn't be more excited or proud to welcome ATS to the Lighthouse family."
Michael Mitchell, CEO of Autism Therapy Services commented that, "Lighthouse has the resources, talent and experience to help our team further its mission. This partnership has created a wonderful opportunity for us to work with a larger, well-capitalized organization that will enable us to further invest in our staff and technology infrastructure to deliver the best possible services for the children and families we serve."
About Lighthouse Autism Center
Headquartered in Mishawaka, Indiana, Lighthouse was founded in 2012 by Gregg and Sandy Maggioli, the parents of a child with autism. Over the past 8 years, Lighthouse has grown into a leading center-based provider of ABA therapy for children on the autism spectrum, with a network of centers across northern Indiana and southwestern Michigan. The Company's state-of-the-art centers focus on providing intensive one-on-one ABA therapy to children ages 2-18. For more information about Lighthouse, visit the company's website at: http://www.lighthouseautismcenter.com.
About Autism Therapy Services
Headquarters in Indianapolis, Indiana, Autism Therapy Services is a center-based ABA provider that provides ABA services through a network of five centers across the greater Indianapolis area. In addition to ABA therapy, ATS also provides speech therapy, occupational therapy, as well as diagnostic services for families.
Media Contact:
Maggie Gendel
Director of Marketing and Support Services
(574) 386-4321