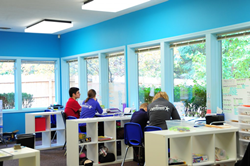 "We have been overwhelmed by the number of families inquiring about therapy services in Elkhart. Clearly the need for autism therapy services is great in this community, and we feel privileged to be able to help meet that need."
ELKHART, Ind. (PRWEB) June 03, 2020
Lighthouse Autism Center, a therapy center for children with autism, has announced it will expand ABA services in Elkhart County. Lighthouse, which currently operates eight ABA therapy centers in northern Indiana and southwestern Michigan, plans to open the center in July. This will be the ninth location for Lighthouse Autism Center, which opened its first center in Mishawaka in 2012.
The newest center will be Lighthouse's second ABA center in Elkhart, Indiana, and will create an additional 35 jobs in the area. Similar to the current Elkhart location, the building will have the capacity to serve upwards of 20 children, providing much needed ABA therapy services to families in the area.
Gregg Maggioli, co-founder and CEO of Lighthouse Autism Center commented, "In August of 2019, we opened our first Elkhart center. Since then, we have been overwhelmed by the number of families inquiring about therapy services for their children. Clearly the need for autism therapy services is great in this community, and we feel privileged to be able to help meet that need."
The newest center will continue the same proactive health and safety measures seen at Lighthouse's other autism therapy centers. These include masks for all employees, extra staff on hand to perform cleaning and sanitation throughout the day, limited building capacity, and symptom and temperature checks for children and employees prior to entering a building.
Lighthouse Autism Center provides intensive, center-based therapy utilizing the principles of Applied Behavior Analysis (ABA). Each child's therapy program is uniquely tailored to their specific needs. Children work on social skills, living skills, school-readiness skills and more.
Lighthouse Autism Center is now enrolling children at their newest location. To learn more and schedule a tour, call 574-387-4313 or visit http://www.lighthouseautismcenter.com/autism-treatment-center-elkhart-indiana.
About Lighthouse Autism Center
Lighthouse Autism Center is an ABA therapy center operated by parents of a child with autism serving Indiana and Michigan. At Lighthouse, we have made it our mission to help children and families by providing the highest quality autism therapy services. To learn how we can help your family, call 574-387-4313 or visit us at http://www.lighthouseautismcenter.com