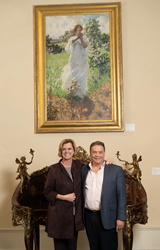 "Lightner Museum seemed like the perfect venue for such a visual masterpiece," said Gonzales. "I'm confident the painting will finally find the audience it deserves."
ST. AUGUSTINE, Fla. (PRWEB) January 14, 2020
The Lightner Museum announced today that it has added a prestigious painting to its collection; a generous gift from Jacksonville arts patron, Dave Gonzales. The magnificent 78 x 53 framed oil on canvas painting entitled, "Return of Persephone" was created by American Impressionist painter, George Hitchcock (1850-1913) in 1906, and first exhibited at the Paris Salon of 1907.
"The Lightner Museum is extremely pleased to announce this significant addition, and wish to share our gratitude with Mr. Gonzales for his generosity," said Teresa Radzinski, Chair of the Board of Trustees.
Characteristic of Hitchcock's other Impressionistic paintings, "Return of Persephone" recounts the ancient tale of the daughter of Zeus and Demeter, Persephone, the goddess queen of the underworld, and celebrates the growth of spring. After being banned to the underworld with her husband Haides, Persephone would make an annual trip back to earth each spring, causing meadows to flower and new grain to suddenly grow. When Persephone returned to the underworld in winter, everything would stop growing and perish.
Born in Providence, Rhode Island, Hitchcock attended and graduated from both Brown University and Harvard Law School. He left the U.S. to study art in Paris, Dusseldorf, and the Hague. He was the only American member of the Vienna Academy, and spent the rest of his life in Holland. Hitchcock earned the nickname, "Painter of Sunlight" and was considered one of the pioneers of the modern outdoors movements. A comparable work is Calypso in the Indianapolis Museum of Art's permanent collection
Today, Hitchcock's paintings grace the collections of museums and public galleries worldwide including Smithsonian American Art Museum, the Metropolitan Museum of Art, Chicago Art Institute, Savannah's Telfair Museum and Musée d'Orsay in Paris.
The scope of the gift by Gonzales helps further establish Lightner Museum as one of Northeast Florida's most prominent art museums.
"Lightner Museum seemed like the perfect venue for such a visual masterpiece," said Gonzales. "I'm confident the painting will finally find the audience it deserves."
About the Lightner Museum: For the past 25 years, Lightner Museum has taken on multiple projects and highly acclaimed exhibits such as Downton Abbey and Edgar Degas. Located in the former Alcazar Hotel in St. Augustine, Florida and home to one of the finest collections of 19th century art in the country, the three floors of the museum are unique and represent different genres of artwork. The museum also offers speaker series, curator tours, learning labs, and after-hours events. The Lightner is open seven days a week, 363 days a year from 9 a.m. to 5 p.m. at 75 King Street St. Augustine, Florida 32084. For General Museum & Donation, email info@lightnermuseum.org or call call 904-824-2874. Wedding Inquiries can be sent to: info@lightnerweddings.com.