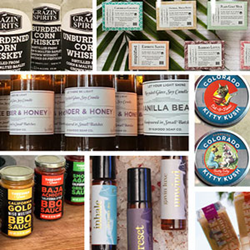 We pride ourselves on being able to confidently and consistently fulfill orders and expectations for the entire continuum of co-packing companies...
DENVER (PRWEB) December 04, 2018
Custom digital label and sticker printer Lightning Labels has expanded offerings and capabilities to provide one-stop shopping for co-packer/fulfillment companies. Every product vertical, from vape and cannabis to food, beverage and personal care products, can find solutions that meet them at their level of need—turnkey to ad-hoc.
"We've covered the bases, including white label and private label/branding providers, formulators of products who dispense into containers, label, package and ship; dedicated labelers and shippers, and everything in between," notes Gary Paulin, Lightning Labels Director of Sales & Client Services.
Versatility and custom options are paramount. Low minimums (starting at 50) are ideal for limited edition or test runs, on up to 15 million labels. Free press proofs are provided (shipping charges apply). Thousands of sizes, coupled with a wide variety of custom sizes and shapes are available, produced using premium films, specialty materials and laminates. Also in the wheelhouse are comprehensive variable data, variable imaging and consecutive numbering capabilities.
Lightning Labels is widely known for fast turnaround times, US-based manufacturing, affordability and getting it right the first time, going back to its founding cornerstones in 2002. The company is also legendary for its high levels of customer service and satisfaction. Personalized Customer Service and Account Management is credited for the company's 97 percent positive Google reviews (4.8 out of 5) based on hundreds of reviews, with vibrant, high-definition quality, uncompromising customer service and 2-3-day turnaround cited as primary strengths.
Notes Paulin, "One of our largest accounts, ConPack, is a co-packer. Most of our co-packer accounts order multiple times a week, as their end-customer needs fluctuate. We pride ourselves on being able to confidently and consistently fulfill orders and expectations for the entire continuum of co-packing companies, from startups needing smaller runs for a variety of versions on up to larger entities needing hundreds of thousands or millions of labels over time. We grow with our customers, using the highly scalable digital printing platform as a base. Dedicated account management helps ensure that co-packer customers deliver top quality on time, to keep their customers happy and loyal, and help enhance their 'raving fan' reviews.
A wide range of label materials further enhances popularity of co-packers and fulfillment companies offering them to their customers. Such finishes as shiny, reflective chrome and gold, satin cloth and textured (great for wine and spirits) abound. And, it's easy to go green and durable with biostone labels (made of stone with no trees used) and Kraft recycled labels featuring 100% post-consumer waste material (earthy and earth-friendly).
When removable/repositionable labels are desired, removable white BOPP fills the bill. For maximum durability, white flexible vinyl labels provide high-torque protection from the elements; high gloss laminate also provides label protection with a shiny look. Matte laminate provides a more natural look.
Paulin adds, "Between a dizzying array of inks, special effects and label material options, we can achieve just about any look and feel that will help differentiate products and provide competitive edge."
About Lightning Labels:
Lightning Labels uses state-of-the-art printing technology to provide affordable, full-color custom labels and custom stickers of all shapes and sizes. From small orders for individuals to the bulk needs of big businesses, Lightning Labels is equipped to handle and fulfill custom label and sticker projects of all types. Best of all, like the name implies, Lightning Labels provides a quick turnaround for every customer's labeling needs. Uses for Lightning Labels' custom product labels and custom stickers include food packaging and organic food labels, wine and beverage labels, bath and body labels, and nutraceutical products, such as vitamins, essentials oils, and herbal remedies, as well as event stickers, adhesive window stickers and more. Lightning Labels strongly supports the development of environmentally friendly printing materials and carries Biostone, a green label material made from stone paper is water resistant and inherently strong and durable. While operating as a high-tech printer, Lightning Labels prides itself on its personalized customer service. Lightning Labels provides one stop shopping for all of your custom label needs. For more information and to place orders online, visit LightningLabels.com. For the latest in packaging news and labeling promotional offers, find Lightning Labels on Twitter (@LightningLabels), Facebook, Pinterest, Google+ and LinkedIn.