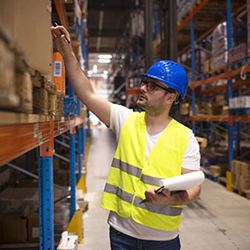 DENVER (PRWEB) November 04, 2021
Lightning Labels, full-color custom labels and custom stickers digital printer, has instituted measures to help manage the supply chain snafu and keep clients on top of consumer demand.
Seeing the coming supply chain challenges, Lightning Labels stocked up on needed label materials to maintain adequate supplies and keep turnaround times short and predictable. The company also is advising clients to plan ahead as much as possible, as there are uncertainties in shipping and other supply chain issues beyond anyone's direct control.
Consumer demand is also off the charts, creating more supply-demand uncertainty. A recent Business Insider article frames the discussion: "America isn't running out of everything just because of a supply-chain crisis. America is running out of everything because Americans are buying so much stuff…Americans are buying everything they can get their hands on, and they'd be buying even more if it weren't for those pesky supply-chain snarls, the National Retail Federation said."
To help ensure that product manufacturers stay ahead of supply chain snafus as much as possible, Gary Paulin, Lightning Labels' Vice President, Sales and Client Services, also advises that product manufacturers:

1. Include extended shipping times and/or higher shipping costs in near-term planning. Continuing strains on shipping are causing delays, due in part to a shortage of qualified workers. In turn, inexperienced and inadequately trained workers are making a variety of mistakes, including deliveries to the wrong address—creating further delays. As demand continues to soar, shipping prices are in flux. It would be wise for product manufacturers to beef up their shipping budgets—both on incoming items such as product labels and outgoing products.
2. Ensure upfront that desired labels can be accommodated with materials already on hand. While pre-planning and maintaining inventory reserves help, there can still be unknowns with particular requests. Make those unknowns known as early in the planning process as possible. As a contingency, figure out a Plan B for label materials in the event a problem arises with Plan A. A major factor in this equation is huge consumer demand that can exhaust supplies more quickly than anticipated.
3. Consider future label orders to address branding or other changes. These changes may already have been in the planning stages, or necessitated by supply chain conditions. New branding can be one example of a planned change. Lack of availability of containers due to supply chain-related shortages can require a fast pivot to find another container. With either situation, decide if/how labels will be impacted—and be ready to order accordingly.
4. Make more customer orders predictable. Subscribe-and-save options with substantial discounts can help identify buying demand over a longer-term period. In turn, this can assist in planning ahead on labels and stickers, helping ensure adequate supplies when needed.
5. Institute "flex buying" incentives. To help provide more breathing room on an increasingly congested supply chain, offer customers who aren't in a hurry longer lead times in exchange for lower prices, future discounts, and the like. When presented with opportunities to save money on items that may not be needed right away, some customers will jump at the chance. This is a page out of the Amazon playbook, where consumers have been offered discounts for later delivery dates—a "no-rush" option. Again, this can bring some relief to supply chain pressures, and help manufacturers plan ahead a bit more reliably.
Product manufacturers developing a proactive strategy to counter supply chain snafus can look forward to more certain outcomes than competitors who only react to changing circumstances as they occur.
About Lightning Labels:
Lightning Labels uses state-of-the-art printing technology to provide affordable, full-color custom labels and custom stickers of all shapes and sizes. From small orders for individuals to the bulk needs of big businesses, Lightning Labels is equipped to handle and fulfill custom label and sticker projects of all types. Best of all, like the name implies, Lightning Labels provides a quick turnaround for every customer's labeling needs. Uses for Lightning Labels' custom product labels and custom stickers include food packaging and organic food labels, wine and beverage labels, bath and body labels, and nutraceutical products, such as vitamins, essentials oils, and herbal remedies, as well as event stickers, adhesive window stickers and more. Lightning Labels strongly supports the development of environmentally friendly printing materials and carries Biostone, a green label material made from stone paper that is water resistant and inherently strong and durable. While operating as a high-tech printer, Lightning Labels prides itself on its personalized customer service. Lightning Labels provides one-stop shopping for all of your custom label needs. For more information and to place orders online, visit LightningLabels.com. For the latest in packaging news and labeling promotional offers, find Lightning Labels on Twitter (@LightningLabels), Facebook, Instagram (@LightningLabels), Pinterest, TikTok and LinkedIn.