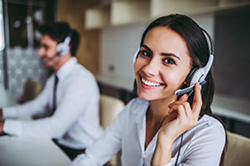 We all are learning lessons from the COVID-19 crisis. This has shinnied a spotlight on the importance of treating people right all the time—when times are bad, when times and good and everything in between…reach out to offer help before customers ask for it
DENVER (PRWEB) October 05, 2020
In celebration of National Customer Service Week Oct. 5-9, custom label printer Lightning Labels announces meeting five COVID-19 customer service benchmarks.
The "COVID-19 customer service challenge" resulted from the re-gearing of business operations and restrictions created by the pandemic. Many Lightning Labels employees started working remotely, coupled with increased demand for many products tied to the pandemic—such as hand sanitizer.
Enhanced response and turnaround times, reinforced customer support and follow-up initiatives, and more robust online ordering protocols are three major areas of concentration since the pandemic first began influencing lives and livelihoods.
An article authored in the August 2020 Costco Connection about building and showcasing customer loyalty in both good and bad times speaks to the comprehensive nature of the initiatives undertaken by Lightning Labels during the pandemic. Author Mark Lusky notes: "We all are learning lessons from the COVID-19 crisis. This has shinnied a spotlight on the importance of treating people right all the time—when times are bad, when times and good and everything in between…reach out to offer help before customers ask for it…"
Five ways Lightning Labels is innovating and increasing customer support are:
1. Improved response times to prospect and customer inquiries via phone and email. Before COVID-19, remote workforce operations were in place (e.g., to stay fully operational during inclement weather). The pandemic led to improving communications efficiency and response time across the board, focusing especially on new business development specialists and account managers.
2. Dedicated Account Management and customer service attention for all prospects and customers. To ensure follow-up and follow-through with customers/prospects, two major enhancements have been put into place. The first is a sales-to-account manager team handoff. Once a prospect becomes a customer, the new business development team transfers primary point of contact to a dedicated account manager. Second, all account managers have backup so that there's a never a customer service gap. This is unique in the industry, and serves as a reliable and consistent way to maintain full understanding and support both for prospect and customer needs. This also enables fast, effective problem-solving and leads to rapid relationship-building and retention.
3. Expanded production capability and days/hours of operation. An additional 3,000 square feet of space and additional finishing equipment have led to a three-shift, seven-days-a-week production operation and increased skilled production staff—improving timely turnaround on such PPE products as hand sanitizers and disinfectants.
4. Rush Services. To address PPE and other orders where urgency and demand have increased in the pandemic era, special emphasis is being placed on expediting turn times to next-day or guaranteed two-day service—a reduction from the normal 48-72 hour interval on 90% of all orders (following proof approvals).
5. Online ordering portal improvements and continued upgrades. A 24/7 quoting and ordering portal continues to undergo enhancements to ensure the industry's best user experience—anytime day or night. Account holders can log in to see full order history, including approved files on all previous orders, then re-order/update quantities quickly with an easy point-and-click, drag-and-drop system.
About Lightning Labels:
Lightning Labels uses state-of-the-art printing technology to provide affordable, full-color custom labels and custom stickers of all shapes and sizes. From small orders for individuals to the bulk needs of big businesses, Lightning Labels is equipped to handle and fulfill custom label and sticker projects of all types. Best of all, like the name implies, Lightning Labels provides a quick turnaround for every customer's labeling needs. Uses for Lightning Labels' custom product labels and custom stickers include food packaging and organic food labels, wine and beverage labels, bath and body labels, and nutraceutical products, such as vitamins, essentials oils, and herbal remedies, as well as event stickers, adhesive window stickers and more. Lightning Labels strongly supports the development of environmentally friendly printing materials and carries Biostone, a green label material made from stone paper is water resistant and inherently strong and durable. While operating as a high-tech printer, Lightning Labels prides itself on its personalized customer service. Lightning Labels provides one stop shopping for all of your custom label needs. For more information and to place orders online, visit LightningLabels.com. For the latest in packaging news and labeling promotional offers, find Lightning Labels on Twitter (@LightningLabels), Facebook, Instagram (@LightningLabels), Pinterest, and LinkedIn.