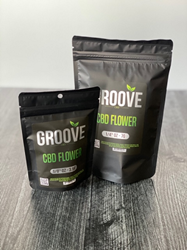 RMD being well prepared and planning ahead, printing of their new product labels has gone smoothly. In essence, it's been business as usual, an unusual attribute when an entire new product line launches.
DENVER (PRWEB) March 25, 2020
Capitalizing on a tradition of product safety and quality control in the vape industry, Vapergate has launched a series of top-quality CBD products featuring independent testing and public sharing of results through newly-formed Rocky Mountain Distribution (RMD).
CBD products including flower, pre-roll joints, isolate powder, full-spectrum powder including THC, tinctures, bath bombs, and pet treats are being offered through three established brands—Groove CBD, Purple Sky CBD and Fox Stone CBD, according to RMD spokesperson Ryan McKibben. New branding, featured on RMD's custom labels produced by Lightning Labels and carried through the firm's complete marketing campaign, will help set RMD apart in the CBD marketplace.
Notes McKibben, "For a few years we had Vapergate clients asking us if we were getting into the CBD industry. The two owners and I all had personal interest in CBD and we decided to test the waters and formed Rocky Mountain Distro."
McKibben adds, "The thought behind it was to have a clear point of purchase for several brands, not just our own ventures, where we would independently test the products we were selling and make lab reports public, so shops don't have to rely strictly on the manufacturer's word or lab reports for the quality of their products. So if we decide to bring a brand in to distribute to our customer base, not only will we have the labs for the company but also our own labs, run from product pulled randomly from their product inventory in our warehouse. There is a lot of distrust in the CBD industry, and we want to fix that."
McKibben points out that CBD, as with vape, has attracted "everybody" to the marketplace, resulting in quality control challenges. Further, notes McKibben, "Anyone can do it. Eighty-percent of the products on the market are white label items from a few large sources, so the products out there are all the same. We decided when we got into this industry that we weren't going to white label anything. We're leveraging six-plus years of manufacturing, sales and branding experience to bring better products to market instead of just throwing our logo on the same old products you see all over the place. If we don't feel like we can do it better than others, we aren't going to do it at all."
"Doing it better" also applies to RMD's branding, according to Ryan Tennant, account manager of Lightning Labels, the custom label printer for both Vapergate and RMD. "Longevity and experience in the vape industry provided the perfect platform for launching CBD," notes Tennant. "They developed compelling, yet simple branding for the new company that provided clear separation from the vape industry. Because of RMD being well prepared and planning ahead, printing of their new product labels has gone smoothly. In essence, it's been business as usual, an unusual attribute when an entire new product line launches."
Where
In addition to a soft rollout of existing Lakewood, Denver and Broomfield Vapergate retail locations, select retailers nationwide also are picking up the products. RMD is planning to open a retail CBD location in Aurora as well. Online ordering can be handled through rockymountaindistro.com.
Why Rocky Mountain Distribution
McKibben emphasizes that superior, fully-tested products and reliable, efficient fulfillment give RMD a competitive edge.
In the testing arena, McKibben points out that independent, multi-layer testing means that customers and retailers can buy with confidence. In addition to manufacturer testing, RMD will test all products before green lighting their availability.
Unlike many CBD products that can take 1-2 weeks turnaround time on orders, RMD has top-of-the-line facilities in place to ensure same or next-day shipping. McKibben laments, "There is a lack of professionalism from many CBD companies out there. We've optimized our operations over the course of five years in business, so we can provide consistent and predictable results."
About Lightning Labels:
Lightning Labels uses state-of-the-art printing technology to provide affordable, full-color custom labels and custom stickers of all shapes and sizes. From small orders for individuals to the bulk needs of big businesses, Lightning Labels is equipped to handle and fulfill custom label and sticker projects of all types. Best of all, like the name implies, Lightning Labels provides a quick turnaround for every customer's labeling needs. Uses for Lightning Labels' custom product labels and custom stickers include food packaging and organic food labels, wine and beverage labels, bath and body labels, and nutraceutical products, such as vitamins, essentials oils, and herbal remedies, as well as event stickers, adhesive window stickers and more. Lightning Labels strongly supports the development of environmentally friendly printing materials and carries Biostone, a green label material made from stone paper is water resistant and inherently strong and durable. While operating as a high-tech printer, Lightning Labels prides itself on its personalized customer service. Lightning Labels provides one stop shopping for all of your custom label needs. For more information and to place orders online, visit LightningLabels.com. For the latest in packaging news and labeling promotional offers, find Lightning Labels on Twitter (@LightningLabels), Facebook, Pinterest, and LinkedIn.