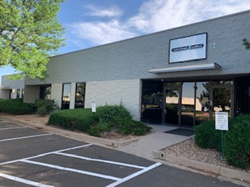 An exceptional customer experience at every point of contact by reliably delivering quality product on time, right the first time, with superior service and superior turn times.
DENVER (PRWEB) July 16, 2020
As part of ongoing efforts to serve its many custom label customers even more efficiently than before, Lightning Labels has expanded the capacity of its printing facility in Colorado, adding both additional floor space for production and a round-the-clock shift schedule. Lightning Labels serves a variety of customers across many demanding and discerning industries with highly specific labeling requirements. Providing label printing services for these many organizations comes with the responsibility to provide both speed and quality.
Production Facility Expands
With the recent expansion of Lightning Labels' Denver, Colorado, production facility, the provider of high-quality labels has upgraded its ability to serve customers' needs. With a 24/7 production schedule now in place and a continued commitment to digital printing technology for speed, color consistency and equipment reliability, Lightning Labels continues to deliver on its brand promise.
According to Matt Zeyher, President of Lightning Labels, "Everyone on the Lightning Labels team has a shared purpose; and that purpose is to provide an exceptional customer experience at every point of contact by reliably delivering quality product on time, right the first time, with superior service and superior turn times."
Zeyher goes on to say, "Our customers are very discerning and demand superior quality and service, lightning fast. Our latest improvements ensure continue to meet and exceed customer expectations."
Although, Lightning Labels has flexographic printing capability within its platform, the product label printers in the Denver facility are all digital, which means order turnaround times are short, potential order sizes are flexible and there is no extra expense associated with the engraving of plates. This process also delivers the ability to create truly personalized graphics and sequentially numbered labels. Custom labels and stickers from Lightning Labels can be die-cut into a wide variety of shapes and sizes and are available in multiple materials and finishes.
Lightning Labels Remains Committed to Exceptional Service
Lightning Labels has been in business for over 18 years. In that time, it has served client organizations of all sizes and types. This includes businesses in fast-growing but heavily regulated sectors such as medical and adult-use recreational cannabis. Other recent improvements to the customer experience include a series of website upgrades, ensuring clients are able to quickly and efficiently manage their accounts and place orders online and any time of day or night.
During the height of shutdowns relating to the COVID-19 pandemic, Lightning Labels remained an essential business, as descriptive and informative labels on all products are required for the safe and compliant distribution. Lightning Labels helped ensure clients keep their own operations on track through difficult times and now stands ready to serve those customers more efficiently than ever before.
About Lightning Labels:
Lightning Labels uses state-of-the-art printing technology to provide affordable, full-color custom labels and custom stickers of all shapes and sizes. From small orders for individuals to the bulk needs of big businesses, Lightning Labels is equipped to handle and fulfill custom label and sticker projects of all types. Best of all, like the name implies, Lightning Labels provides a quick turnaround for every customer's labeling needs. Uses for Lightning Labels' custom product labels and custom stickers include food packaging and organic food labels, wine and beverage labels, bath and body labels, and nutraceutical products, such as vitamins, essentials oils, and herbal remedies, as well as event stickers, adhesive window stickers and more. Lightning Labels strongly supports the development of environmentally friendly printing materials and carries Biostone, a green label material made from stone paper is water resistant and inherently strong and durable. While operating as a high-tech printer, Lightning Labels prides itself on its personalized customer service. Lightning Labels provides one stop shopping for all of your custom label needs. For more information and to place orders online, visit LightningLabels.com. For the latest in packaging news and labeling promotional offers, find Lightning Labels on Twitter (@LightningLabels), Facebook, Instagram (@LightningLabels), Pinterest, and LinkedIn.