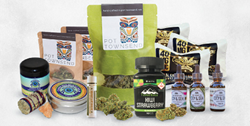 DENVER (PRWEB) July 10, 2019
Trade shows and industry gatherings are great places to check in on the state of an industry, especially when dealing with a sector as fast-moving and vibrant as cannabis business. Entrepreneurs dealing in medical or recreational marijuana are invited to join Lightning Labels at one of several upcoming conventions, where they can see the value of custom cannabis labels up close.
July 22-24: NCIA 6th Annual Cannabis Business Summit® & Expo 2019
The National Cannabis Industry Association's annual gathering is one of the preeminent events of its kind. This year's edition will be held at the San Jose McEnery Convention Center from July 22-24. Lightning Labels will display its custom marijuana labels as one of the over 400 companies in the exhibition hall. In addition to browsing the expo floor, visitors to this conference can attend talks by more than 150 experts and make connections with the 10,000 other attendees.
Aug. 2-4: USA CBD Expo
An interesting niche related to the cannabis industry involves CBD and hemp products, which fit into legal retail settings beyond traditional medical and recreational cannabis. The USA CBD expo, held in early August in Miami Beach, is a gathering for entrepreneurs in this sector to learn from one another and make vital connections with peers and suppliers. Lightning Labels personnel will demonstrate how custom CBD labels can make products look better on shelves while keeping them in compliance with ever-changing local and federal laws.
Aug. 8: Wine & Weed Symposium
In California, a state that boasts a network of vineyards and a recreational cannabis industry, the Wine Industry Network will host the third annual Wine & Weed Symposium on Aug. 8. This gathering is designed to turn vintners and cannabis businesses into partners rather than rivals. Lightning Labels, which has spent years working with the wine and cannabis sectors, will have representatives present for the conference. The nearly 500 attendees can learn the value of great custom edibles labels, as well as the similarities and differences with wine labeling.
Aug. 17-18: CannaGrow Expo
The CannaGrow Expo, held Aug. 17-18 in Palm Springs, California, is focused on the cultivation and extraction side of the cannabis industry. Lightning Labels will be among the over 125 exhibitors in the vendors hall, teaching growers the best practices of designing and printing custom warning labels and other essential pieces of cannabis packaging. The CannaGrow Expo is a great place to learn about the latest scientific breakthroughs in cannabis cultivation and make connections with other companies in this fast-expanding sector.
About Lightning Labels:
Lightning Labels uses state-of-the-art printing technology to provide affordable, full-color custom labels and custom stickers of all shapes and sizes. From small orders for individuals to the bulk needs of big businesses, Lightning Labels is equipped to handle and fulfill custom label and sticker projects of all types. Best of all, like the name implies, Lightning Labels provides a quick turnaround for every customer's labeling needs. Uses for Lightning Labels' custom product labels and custom stickers include food packaging and organic food labels, wine and beverage labels, bath and body labels, and nutraceutical products, such as vitamins, essentials oils, and herbal remedies, as well as event stickers, adhesive window stickers and more. Lightning Labels strongly supports the development of environmentally friendly printing materials and carries Biostone, a green label material made from stone paper that is water resistant and inherently strong and durable. While operating as a high-tech printer, Lightning Labels prides itself on its personalized customer service. Lightning Labels provides one stop shopping for all custom label needs. For more information and to place orders online, visit LightningLabels.com. For the latest in packaging news and labeling promotional offers, find Lightning Labels on Twitter (@LightningLabels), Facebook, Pinterest, Google+ and LinkedIn.