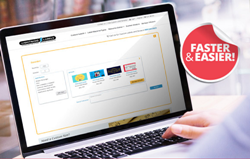 This latest upgrade is simply the latest step in our efforts to keep our clients happy and help them get on with the important work of running their businesses
DENVER (PRWEB) June 25, 2020
Businesses of all sizes and industries need access to high-quality custom labels and custom stickers to sell and market their products. These labels fulfill roles from complying with legal ingredient listing requirements to acting as eye-catching advertisements for the items within.
Now, organizations working with Lightning Labels to get these custom labels can ensure their production supply chains move more smoothly and conveniently than ever before, with the debut of a new, streamlined reordering process on the Lightning Labels website.
Reordering Labels: Now Easier than Ever
As part of its ongoing efforts to provide a best-in-class e-commerce experience, Lightning Labels debuted a new reordering process on May 17. Customers may now quickly reorder a previously placed order, whether that means picking specific items, replicating the exact contents of the previous transaction or starting with a duplicate of the past order and making edits.
When users log into their Lightning Labels dashboards, they are also gain instant access to the artwork files from their previous orders. All the processes around reordering have been simplified and made more convenient to ensure don't waste any time reordering labels. Less time spent on managing orders means more time for handling other tasks essential to keeping their companies running.
"We've always been committed to providing maximum assistance and convenience for our customers," said VP of Sales and Client Services Gary Paulin. "This latest upgrade is simply the latest step in our efforts to keep our clients happy and help them get on with the important work of running their businesses."
Lightning Labels Continues Focus on Customer Convenience
Lightning Labels has spent years becoming a trusted partner for companies of all industries and sizes that need custom product labels and stickers. Clients benefit from Lightning Labels' focus on responsive customer service and commitment to helpful features such as the ability to proof labels entirely digitally via PDF. With all-digital printing processes to enable quick turnaround times and flexible order sizes, label projects of all descriptions go more smoothly when handled via Lightning Labels.
During the recent shutdowns related to the COVID-19 pandemic, Lightning Labels was permitted to continue operating as a critical business in Colorado, demonstrating the indispensable nature of custom labels. Companies rely on having access to product labels to ensure their goods reach store shelves. Updates to the online ordering process, including the most recent streamlining of the reorder function, reflect a continued commitment to the customer experience. Current and prospective clients can visit the Lightning Labels home page to experience these upgrades for themselves.
About Lightning Labels:
Lightning Labels uses state-of-the-art printing technology to provide affordable, full-color custom labels and custom stickers of all shapes and sizes. From small orders for individuals to the bulk needs of big businesses, Lightning Labels is equipped to handle and fulfill custom label and sticker projects of all types. Best of all, like the name implies, Lightning Labels provides a quick turnaround for every customer's labeling needs. Uses for Lightning Labels' custom product labels and custom stickers include food packaging and organic food labels, wine and beverage labels, bath and body labels, and nutraceutical products, such as vitamins, essentials oils, and herbal remedies, as well as event stickers, adhesive window stickers and more. Lightning Labels strongly supports the development of environmentally friendly printing materials and carries Biostone, a green label material made from stone paper is water resistant and inherently strong and durable. While operating as a high-tech printer, Lightning Labels prides itself on its personalized customer service. Lightning Labels provides one stop shopping for all of your custom label needs. For more information and to place orders online, visit LightningLabels.com. For the latest in packaging news and labeling promotional offers, find Lightning Labels on Twitter (@LightningLabels), Facebook, Pinterest, and LinkedIn.