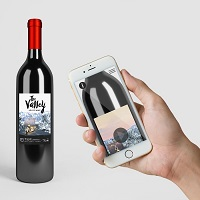 More so than a standard graphic design element, an AR component can give a product a conceptual hook and make potential buyers spend more time interacting with the item.
DENVER (PRWEB) May 11, 2021
Augmented reality labels are one of the most compelling and exciting areas of product labeling at the moment. This type of product labeling brings the "wow" factor and digital data collection of online shopping into physical space, and can help companies' products stand out against the competition. As part of its ongoing efforts to provide a cutting-edge labeling experience for its customers, Lightning Labels is pleased to offer a proprietary technology for Augmented Reality Labels, which is highly affordable and suitable for companies of any size in various industries.
Augmented Reality Labels Create Digital-Physical Connections
When shoppers point their smartphone cameras at AR labels, they can use their mobile device to experience added digital content. This often takes the form of motion graphics, making it look like the imagery from the label is moving, projecting into three-dimensional space or coming alive. The mainstream acceptance of AR technology has built in recent years, with the initial launch of the game Pokemon Go drawing an especially interested reaction in 2016.
Business leaders wondering how they can create more digital engagement with their shoppers, even when most of their products are focused on brick-and-mortar sales, can turn to AR content. They may find the appeal of the technology goes beyond curiosity and translates to genuine value.
Companies Can Build Products' Appeal Through Custom Augmented Reality Labels
Investing in AR labels is an exciting prospect for businesses across the spectrum of retail brands. In verticals that have already seen labeling innovation such as craft beer brewing and boutique winemaking, AR features can help certain products stand out on crowded store shelves. More so than a standard graphic design element, an AR component can give a product a conceptual hook and make potential buyers spend more time interacting with the item.
There are other value-adding benefits of AR integration in addition to shelf appeal. For example, the fact that customers can use their phone's camera to interact with the AR labels means there is now a digital data trail to show brands how people are interacting with their products. This information can be the fuel for future advertising and marketing efforts.
Lightning Labels is an Ideal Partner Organization
When pressing into new areas of labeling, AR included, companies can improve the quality of their initial efforts by working with experienced third parties such as Lightning Labels. Committed to high-quality customer service, as well as the speed and flexibility that come from all-digital printing, Lightning Labels has spent decades providing customers with access to the latest and most effective labeling technologies and techniques. AR labels are the latest addition to its portfolio of specialty offerings.
About Lightning Labels:
Lightning Labels uses state-of-the-art printing technology to provide affordable, full-color custom labels and custom stickers of all shapes and sizes. From small orders for individuals to the bulk needs of big businesses, Lightning Labels is equipped to handle and fulfill custom label and sticker projects of all types. Best of all, like the name implies, Lightning Labels provides a quick turnaround for every customer's labeling needs. Uses for Lightning Labels' custom product labels and custom stickers include food packaging and organic food labels, wine and beverage labels, bath and body labels, and nutraceutical products, such as vitamins, essentials oils, and herbal remedies, as well as event stickers, adhesive window stickers and more. Lightning Labels strongly supports the development of environmentally friendly printing materials and carries Biostone, a green label material made from stone paper is water resistant and inherently strong and durable. While operating as a high-tech printer, Lightning Labels prides itself on its personalized customer service. Lightning Labels provides one stop shopping for all of your custom label needs. For more information and to place orders online, visit LightningLabels.com. For the latest in packaging news and labeling promotional offers, find Lightning Labels on Twitter (@LightningLabels), Facebook, Instagram (@LightningLabels), Pinterest, TikTok and LinkedIn.