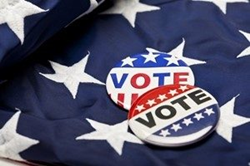 The 'I voted' sticker is an iconic part of American elections, and any district that wants to ensure its stickers are up to high standards can work with Lighting Labels to get the service they deserve
DENVER (PRWEB) March 19, 2020
An election year brings recurring traditions, including the use of custom stickers at polling places. These distinctive "I voted" stickers, handed out to constituents who vote in a primary or general election, are a distinct part of the election day experience and we at Lightning Labels are prepared to fulfill orders to polling places around the country.
An Important Kind of Sticker
The meaning of custom "I voted" stickers is clear - these stickers show an individual has participated in the democratic process. Every primary and general election season, people wear these stickers with pride, and it's important that polling places have a reliable way to receive high-quality stickers in time for election day. It's also essential that each polling station order the right amount of stickers, as having too many can be expensive and inconvenient, and having too few means sending voters away disappointed that they can't partake in an age-old election day ritual.
By using fully digital printing methods, Lightning Labels has become an ideal partner to create political stickers for polling places. This printing style enables flexible order sizes and quick turnaround times. Local organizers can get the exact amount of "I voted" stickers they need for a particular primary or general election, on whatever schedule they specify. The stickers are available in a variety of durable materials, with die-cutting enabling them to come in numerous shapes and sizes.
"We are thrilled to be able to provide such an important kind of sticker," said Lightning Labels Director of Sales and Client Services Gary Paulin. "The 'I voted' sticker is an iconic part of American elections, and any district that wants to ensure its stickers are up to high standards can work with Lighting Labels to get the service they deserve."
A Big Year for Custom 'I Voted' Stickers
While there are elections at some levels every year, presidential election years are high-demand periods for custom "I voted" stickers. Many states have already held their caucuses and primaries, with the political machinery getting in gear for the general election in November. Polling places eager to receive high-quality stickers to hand out to voters can contact Lightning Labels now to begin the ordering process.
Lightning Labels offers many conveniences - including physical proofs that are free apart from postage costs or PDF proofs - to ensure every order is up to buyers' standards. Quick turnaround times, flexible order sizes and helpful customer service and help polling place organizers be confident that their stickers will please voters.
About Lightning Labels:
Lightning Labels uses state-of-the-art printing technology to provide affordable, full-color custom labels and custom stickers of all shapes and sizes. From small orders for individuals to the bulk needs of big businesses, Lightning Labels is equipped to handle and fulfill custom label and sticker projects of all types. Best of all, like the name implies, Lightning Labels provides a quick turnaround for every customer's labeling needs. Uses for Lightning Labels' custom product labels and custom stickers include food packaging and organic food labels, wine and beverage labels, bath and body labels, and nutraceutical products, such as vitamins, essentials oils, and herbal remedies, as well as event stickers, adhesive window stickers and more. Lightning Labels strongly supports the development of environmentally friendly printing materials and carries Biostone, a green label material made from stone paper is water resistant and inherently strong and durable. While operating as a high-tech printer, Lightning Labels prides itself on its personalized customer service. Lightning Labels provides one stop shopping for all of your custom label needs. For more information and to place orders online, visit LightningLabels.com. For the latest in packaging news and labeling promotional offers, find Lightning Labels on Twitter (@LightningLabels), Facebook, Pinterest, and LinkedIn.