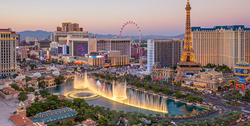 The CBD space is one of the most dynamic and exciting industries today
DENVER (PRWEB) January 22, 2020
The market for cannabidiol-derived products is one of the hottest areas of business today, and one with constantly changing legal requirements. Companies in this space have to be agile and adaptable, and be ready to make major changes to their strategies, especially regarding custom labels. The USA CBD Expo 2020 is a place for stakeholders in the sector to connect with one another and learn from industry experts.
Lightning Labels will be on hand as an exhibitor to show off the value of custom CBD product labels in person.
Making Connections at the USA CBD Expo
The USA CBD Expo 2020, set for February 13-15 in Las Vegas, is open to both business representatives and members of the public. More than 500 brands will have a presence at the show, with more than 40 expert speakers from the industry giving talks and seminars about the state of CBD products in 2020. To ensure company representatives have time to network and connect, there are hours set aside for strictly business-to-business activity. The convention's Thursday is strictly for B2B meetings and seminars.
"The CBD space is one of the most dynamic and exciting industries today," said Lightning Labels Director of Sales and Client Services Gary Paulin."Lightning Labels representatives look forward to networking with the leaders in this sector."
Whether CBD professionals are eager to forge new business relationships, find products and services that will help their organizations thrive or hear talks about the future of the sector, they can find what they're looking for at the USA CBD Expo. Important topics such as the fragmented and evolving state of labeling for CBD products are worth paying close attention to, and the convention is an ideal place to glean the latest information.
Improving Custom CBD Labels
Warning labels for CBD products are in a state of regulatory flux and uncertainty, with the Food and Drug Administration planning to clarify its stance on packaging requirements in the near future. One of the most desirable traits for a CBD labeling organization to have, therefore, is order size flexibility. When CBD sellers don't have to purchase large amounts of warning labels, they lower their risk of having unusable stock on hand following a change in rules.
Lightning Labels uses all-digital printing methods to offer this level of adaptability to its CBD labeling clients. Representatives can visit Lightning Labels in the exhibition hall at the USA CBD Expo to see examples of the latest warning label options in person. Forming a relationship with Lightning Labels may help companies thrive in the years to come, even as laws inevitably evolve.
About Lightning Labels:
Lightning Labels uses state-of-the-art printing technology to provide affordable, full-color custom labels and custom stickers of all shapes and sizes. From small orders for individuals to the bulk needs of big businesses, Lightning Labels is equipped to handle and fulfill custom label and sticker projects of all types. Best of all, like the name implies, Lightning Labels provides a quick turnaround for every customer's labeling needs. Uses for Lightning Labels' custom product labels and custom stickers include food packaging and organic food labels, wine and beverage labels, bath and body labels, and nutraceutical products, such as vitamins, essentials oils, and herbal remedies, as well as event stickers, adhesive window stickers and more. Lightning Labels strongly supports the development of environmentally friendly printing materials and carries Biostone, a green label material made from stone paper is water resistant and inherently strong and durable. While operating as a high-tech printer, Lightning Labels prides itself on its personalized customer service. Lightning Labels provides one stop shopping for all of your custom label needs. For more information and to place orders online, visit LightningLabels.com. For the latest in packaging news and labeling promotional offers, find Lightning Labels on Twitter (@LightningLabels), Facebook, Pinterest, and LinkedIn.