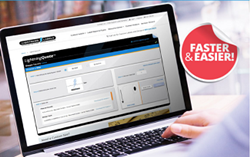 Requesting a quote for new custom labels is quick and smooth, letting busy entrepreneurs get back to running their businesses.
DENVER (PRWEB) April 14, 2020
Receiving a custom label quote has become quicker and easier with the launch of Lightning Labels' updated Online Quoter. A streamlined new process leads customers through the steps of finding the custom labels they need for upcoming product launches or redesigns, showing just how simple it is to enhance the appearance of their goods.
With this new process in place, business owners can take advantage of the many sizes, shapes and materials available from Lightning Labels. These customization options are backed up with responsive customer care, as well as the quick turnaround times and flexible order sizes that come from all-digital printing methods.
"With this latest revision, we've made an easy process even easier," said Lightning Labels Director of Sales and Client Services Gary Paulin. "Requesting a quote for new custom labels is quick and smooth, letting busy entrepreneurs get back to running their businesses."
The New Quote Process
The steps to complete the new Lightning Labels process are self-explanatory and straightforward, and it's a matter of minutes for business owners to get the labels they need for their applications. First, the user selects a label shape, then completes four other steps to customize the finished product.
1. Application and unwind direction: Customers begin by selecting whether the labels are to be applied by hand or machine, and which direction they should unwind from the roll.
2. Measure label diameter: Once they have selected shape, application style and/or unwind direction, examine the size of the package they plan to label, to determine how large the label should be.
3. Enter label size: In this step, customers simply enter the size they measured in the previous step. Directions make it clear how to measure and enter the information.
4. Select die: This is where users choose which die they want used to cut their labels. Options appear based on answers to the previous questions, and begin with the most popular configurations. PDFs are available, to show the exact size of a die.
With the four steps completed, users receive a view of their chosen label's size, shape and unwind direction. They then verify the information and move on to submit the quote request.
Custom Sizes
While the new quote process is based on labels using existing dies, requesting labels in a customized size and shape is always an option. Lightning Labels is determined to match every project with the right custom stickers or product labels for the purpose. Business owners simply need to call 800.544.6323 or email info@lightninglabels.com to speak with a label expert and determine the exact right labels for their particular case.
About Lightning Labels:
Lightning Labels uses state-of-the-art printing technology to provide affordable, full-color custom labels and custom stickers of all shapes and sizes. From small orders for individuals to the bulk needs of big businesses, Lightning Labels is equipped to handle and fulfill custom label and sticker projects of all types. Best of all, like the name implies, Lightning Labels provides a quick turnaround for every customer's labeling needs. Uses for Lightning Labels' custom product labels and custom stickers include food packaging and organic food labels, wine and beverage labels, bath and body labels, and nutraceutical products, such as vitamins, essentials oils, and herbal remedies, as well as event stickers, adhesive window stickers and more. Lightning Labels strongly supports the development of environmentally friendly printing materials and carries Biostone, a green label material made from stone paper is water resistant and inherently strong and durable. While operating as a high-tech printer, Lightning Labels prides itself on its personalized customer service. Lightning Labels provides one stop shopping for all of your custom label needs. For more information and to place orders online, visit LightningLabels.com. For the latest in packaging news and labeling promotional offers, find Lightning Labels on Twitter (@LightningLabels), Facebook, Pinterest, and LinkedIn.