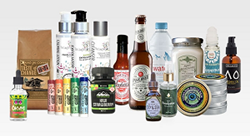 We look forward to showing off the effectiveness of custom labels and demonstrating the value premium packaging can provide to manufacturers and retailers alike.
DENVER (PRWEB) November 18, 2019
In recent years, the field of private-label products - with retailers attaching their own branding to products - has become more prominent than ever before. Customer sentiment is turning in favor of these own-brand offerings, and companies have found the value in selling premium products with private labels.
Buyers and sellers in this space will meet up at the U.S. Private Label Trade Show in Chicago Nov. 17-19. Lightning Labels will be one of the exhibitors at the gathering, to demonstrate the appeal of well-designed and manufactured custom product labels.
The Premier Private-Label Event
The Donald E. Stephens Convention Center, 10 minutes from O'Hare International Airport, will be the venue for this year's Private Label Trade Show. There are three halls within the complex, each dedicated to exhibitors from different industries. Over 1,500 companies will be at the show, from more than 55 different countries. With private-label goods growing in popularity in Europe and Latin America, international connections may be especially valuable for attendees.
Whether attendees represent a manufacturer that wants to sell to retail chains or a store seeking to partner up with makers of commercial goods, they will be able to make important connections at the convention. Wholesale companies and government agencies will also have a presence at the convention. Lightning Labels representatives will be on hand to demonstrate the value of partnering with an expert third party when choosing private labeling for products.
"The private-label field is an exciting and growing part of retail today, and Lightning Labels is excited to have a presence at this premier show," said Lightning Labels Director of Sales and Client Services Gary Paulin. "We look forward to showing off the effectiveness of custom labels and demonstrating the value premium packaging can provide to manufacturers and retailers alike."
An Opportunity to See Custom Labels' Value
Organizations interested in creating labels for private-label products, whether these companies are manufacturers, distributors, wholesalers, retailers or any other link in the supply chain, should make sure to visit the Lightning Labels booth at the Private Label Trade Show. Inspecting product samples in person will demonstrate the appeal of well-designed and printed packaging which uses a combination high-resolution imagery and premium materials to convey a brand's unique character.
Lightning Labels uses all-digital printing methods to deliver label orders quickly, and offers flexible order sizes that enable companies to get exactly as many as they need. With variable printing, companies can combine many designs into a single order, potentially making it easier to provide products to multiple retailers. These advantages and more will be on display at the Lightning Labels booth.
About Lightning Labels:
Lightning Labels uses state-of-the-art printing technology to provide affordable, full-color custom labels and custom stickers of all shapes and sizes. From small orders for individuals to the bulk needs of big businesses, Lightning Labels is equipped to handle and fulfill custom label and sticker projects of all types. Best of all, like the name implies, Lightning Labels provides a quick turnaround for every customer's labeling needs. Uses for Lightning Labels' custom product labels and custom stickers include food packaging and organic food labels, wine and beverage labels, bath and body labels, and nutraceutical products, such as vitamins, essentials oils, and herbal remedies, as well as event stickers, adhesive window stickers and more. Lightning Labels strongly supports the development of environmentally friendly printing materials and carries Biostone, a green label material made from stone paper is water resistant and inherently strong and durable. While operating as a high-tech printer, Lightning Labels prides itself on its personalized customer service. Lightning Labels provides one stop shopping for all of your custom label needs. For more information and to place orders online, visit LightningLabels.com. For the latest in packaging news and labeling promotional offers, find Lightning Labels on Twitter (@LightningLabels), Facebook, Pinterest, and LinkedIn.