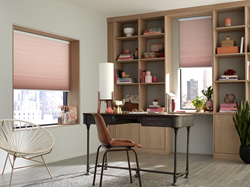 "Natural light can make a huge impact on your space, so it's great resource for improving your video conference calls."
HOUSTON (PRWEB) April 15, 2020
Blinds.com, the #1 online retailer of custom window treatments, sheds light on the best way to set up your home office. Abigail Sawyer of Blinds.com gives her expert advice on setting up a home office and maximizing natural light to take the stress out of video calls.
"You'll feel more confident and comfortable if your home office space is uniquely yours," says Sawyer. "Natural light can make a huge impact on your space, so it's great resource for improving your video conference calls."
Blinds.com recommends these four tips to getting the most out of natural light:
1. Make a Dedicated Office Space
If you've suddenly been thrust into the working-remote population, it's a good idea to set up a dedicated office space in your home. Not only does this mentally separate your home and work life, but it also creates a consistent background in which you can feel comfortable taking video calls.
According to Sawyer, separating your work from your free time is another great perk of setting up a video-friendly home office space. "Clearing out the clutter in your home office will make your more productive and appear more professional on video calls. Plus, you can close the door on your office when you're done for the day."
2. Make the Most of Natural Light
Not only is sunshine good for your health – especially if we're all stuck inside for an indefinite period of time – but it can also be the deciding factor in how you appear in a video call.
If you're getting too much direct sunlight, closing the slats of your blinds or lowering your shades can help reduce the glare. "We always recommend light filtering shades for home offices," Sawyer says. "They filter the light passing through your window the same way a professional photographer would use light filters when taking photographs, so they're a great option for improving your appearance on video calls."
If you're part of the massive surge of people tackling DIY home renovation projects to accommodate long-term working from home and want to upgrade your window treatments, consider light-diffusing shades which can provide a soft glow instead of direct sunlight.
3. The Right Place at the Right Time
Keep in mind that light will travel through your window differently throughout the day. The perfect morning sunshine may be long gone by your 4pm call. If your space allows for it, changing your orientation relative to the windows throughout the day can make a big impact on how you appear on video calls.
"Never sit with your back to a window," Sawyer advises. "The light spilling in will entirely darken your face, making it difficult for others to see you. Instead, sit facing the window or at a slight angle so the sunlight is always behind your camera."
4. Let There Be Light
If your office space doesn't have great natural light, you can always rely on artificial light to brighten your video calls. Avoid sitting directly under harsh overhead lights, as they can play with the shadows on your face and make you look like you're telling ghost stories around the campfire.
If adding a lamp, position it behind your camera and make sure to test the light levels before your call begins. White light can sometimes be too strong on camera, so opt for softer light bulbs if possible.
Making small improvements to your home office can drastically improve the quality of your video conference calls and productivity. Whether you're taking advantage of natural light or adjusting your window treatments and lamps to achieve the perfect lighting, Blinds.com wants to help take the stress out of your video conference calls.
For more information on setting up your home office, click here.
ABOUT BLINDS.COM
Blinds.com is part of The Home Depot's industry-leading family of brands, and the largest e-commerce retailer of window coverings in the world – covering over a million windows a year since 1996. Blinds.com makes ordering custom blinds, shades, shutters and draperies surprisingly easy with over 30,000 five-star reviews, award-winning customer service, SureFit Guarantee and in-home measure and installation services. Shop online at Blinds.com or call 1-800-505-1905 to speak to one of 200+ blinds experts.