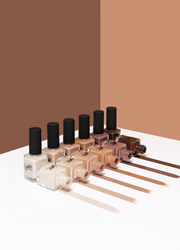 Y.N.B.B. is a collection of my favorite classic nudes, named after special ladies in my life. Each shade represents a unique personality and was created to provide users with a sleek, polished, natural look that softly, transforms & compliments the nail palette.
MIAMI (PRWEB) May 07, 2020
Lights Lacquer, a vegan, cruelty and seven-free nail lacquer brand developed by Miami based, mega-beauty influencer, KathleenLights, and Fuentes' first solo project is excited to announce its newest release to the Lights Lacquer family-, "Y.N.B.B" (Your Nails, But Better). The colors of this quality, highly pigmented formula of nail polish that glides on smoothly are inspired by Kathleen's favorite classic nudes that include light, medium & dark tones, including Mila, Matilda, Lyla, Emma, Alyanna, and Olivia. Each shade represents a unique personality and was created to provide users with a sleek, polished, natural look that softly, transforms & compliments the nail palette.
Additionally, further proof that innovation is always at the helm of the brand, Lights Lacquer engaged content creators from around the globe, to virtually launch this special campaign, while respecting social distancing. Each creator was asked to design a single style for each color, resulting in distinctive and original looks. Utilizing specialized creators for the launch of Y.N.B.B. is another pioneering way Lights Lacquer is transforming its collection launch approach and meeting the demand for the recent increase in at-home manicures. Content creators used to launch this campaign include @sarahkretzu, @overglowedit, @__girgis, @lauramvila, @theacaciamcbride, @enigivensunday.
Each shade in the Y.N.B.B. collection is as follows:
Mila, The Dreamer: Ivory with slight pink undertones, Mila's got her head in the clouds, imagination on 100, she is the best friend to have when you're feeling down and need a pick me up.
Matilda, The Free Spirit: Soft beige with yellow undertones, Matilda has her shoes off, sand between her toes, the beach is her happy place. Being one with the earth is her only calling, along with coconut water, of course.
Lyla, The Rodeo Gal: Neutral tan with a hint of pink undertones, Lyla uses Cowgirl hats for fashion and function, honey. You can find her getting down and dirty, all while rocking her favorite animal print top.
Emma, The Adventurer: Warm tan with orange undertones, you can catch Emma on a hike, or camping where the wild things are. She isn't afraid to chip a nail but doesn't have to worry about that when wearing our polish.
Alyanna, The Boujee Babe: A deep cool-toned chocolate brown, Alyanna can be found lounging in silk sheets with her favorite facemasks and cucumber on her eyes. Grab her a mimosa and please do not disturb her.
Olivia, The Coffee Lover: A rich espresso brown with a hint of red undertones, Olivia thinks sleep is for the weak. She is always on the go, might be on her fourth cup of espresso (with zero shame), and can always be found putting the create in creativity.
The collection is available for purchase on May 7th, 2020 and sold exclusively online at http://www.lightslacquer.com. The lacquers can be purchased at $9.50 per bottle or $52.00 for the collection. In addition, Lights Lacquer will release a seven-free base and top coat, on June 1, 2020 in honor of #NationalNailPolishDay, to meet the needs and demands of polish aficionados, making Lights Lacquer a complete line of manicure & pedicure needs.
Lights Lacquer will continue to roll out a variety of collections throughout the coming year. For more information or to purchase Y.N.B.B., visit https://lightslacquer.com. For downloadable high-resolution images of Lights Lacquer, click HERE.
ABOUT LIGHTS LACQUER
Lights Lacquer is a vegan, cruelty and seven-free nail lacquer brand developed by mega-beauty influencer, KathleenLights, and Fuentes' first solo project, launched in November 2019. What makes Lights Lacquer polishes unique, is that they are not only beautiful and distinctive but also free of toxins. Their Seven-Free formula is created without toxic chemicals such as Toluene, Dibutyl Phthalate (DBP), Formaldehyde, Formaldehyde Resin, Camphor, TPHP, and Xylene which are common in many other polishes. This formula makes for a polish that is both safe and beautiful. Every shade of Lights Lacquer is carefully curated by Kathleen, drawing inspiration from her vast knowledge of makeup, color theory, the world around her, and trendy Pantone colors of the season. Kathleen not only tests every shade individually for opacity and finish, but she also ensures each shade is something not only she loves, but a product her customers and fans will love too. Lights Lacquer is not complete without the naming of each polish. Naming the polishes is one of Kathleen's favorite parts of the process. Names for each polish are derived from a variety of inspiration including some of Kathleen's favorite TV shows, fun expressions, names of people she loves and fan suggestions. Past collections include GRL PWR, a tribute to women's empowerment and Kathleen's Cuban roots including: Jefa, HBIC, Rosie, GRL PWR, Woman and 11. Polished Gems a collection of colors featuring Kathleen's favorite gemstones: Alexandrite, Ruby, Emerald, Smokey Quartz, Amethyst and Citrine, and limited-edition shade, Moon Stone.
ABOUT KATHLEENLIGHTS:
Kathleen Fuentes, better known as KathleenLights, is a popular beauty YouTube vlogger and influencer. Born to Cuban immigrant parents, Kathleen is a Miami native whose pride for her Cuban culture & roots runs deep. A proud Latina, Kathleen launched her YouTube channel on January 26, 2013, and today, she has over 4.1M subscribers.
At only 28-years-old, Kathleen has catapulted herself into a brand in and of itself, with world-renown collaborations that include ColourPop, Ofra, Makeup Geek, and Morphe Brushes. In addition to being a successful vlogger and influencer, Kathleen is an incredibly savvy businesswoman launching several successful ventures including 'KL Polish', Lights Label, her own merchandise line and most recently, her very first solo project and brand, Lights Lacquer, a vegan and cruelty-free nail lacquer.
Kathleen's strong influence goes beyond her YouTube channel @KathleenLights and extends to Instagram as well, where she has 2.1 Million followers. Kathleen has a combined reach of over 6.3M collectively, throughout her owned channels which include: @KathleenLights on Instagram, @Lightslacquer, @Lightslabel, and @KathleenLights1, on Twitter.
# # #