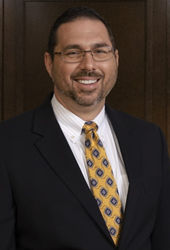 I look forward to working with the well-respected team at Ligori & Ligori and am dedicated to providing clients with legal counsel they can trust, says Thomas McFadyen
TAMPA, Fla. (PRWEB) January 20, 2021
Ligori & Ligori Attorneys at Law, an established personal injury law firm based in Tampa, is pleased to announce attorney Thomas McFadyen has joined the firm. Offering service in several practice areas, Ligori & Ligori Attorneys at Law represents those injured in auto accidents, by defective products or due to another's negligence. They provide personalized service, extensive experience and a commitment to seeking the highest amount of compensation for a client's injury or loss. Mr. McFadyen's legal knowledge and expertise will be a great addition to the firm.
Thomas McFadyen is a life-long resident of the Tampa Bay area. He completed his undergraduate studies at the University of South Florida, graduating with honors. Mr. McFadyen then attended Stetson University College of Law. After law school, he served as a law clerk at the Law Offices of Nicolas M. Athanason and gained valuable experience helping clients in obtaining advantageous resolutions in personal injury cases. Mr. McFadyen then served as an associate public defender in Hillsborough County, Florida, in the Thirteenth Judicial Circuit. While serving in this role, he helped a variety of clients as well as litigated cases through trial. Mr. McFadyen acted as a litigation attorney in the Tampa Bay area for nearly ten years. In this capacity, he handled complex business litigation and represented some of the largest lending institutions in the country. Mr. McFadyen is an active member in the legal community and a member of the Florida Justice Association.
"I look forward to working with the well-respected team at Ligori & Ligori and am dedicated to providing clients with legal counsel they can trust," says Thomas McFadyen
More About Ligori & Ligori Attorneys at Law:
Ligori & Ligori Attorneys at Law has offices in Tampa, Lakeland and Ocala, Florida, serving clients needing legal help in acquiring compensation for their injuries. They handle a wide variety of personal injury and insurance claims, including those involving auto accidents, truck accidents, property damage, storm damage, wrongful death, negligence and more. The practice was established with a mission to provide "personalized attention for your personal injury" while leveraging resources and experience to help clients obtain fair loss compensation.
For more information about or the legal services offered at Ligori & Ligori Attorneys at Law, please visit http://www.callmeonmycell.com, or call the Tampa office directly at (813) 254-7119.