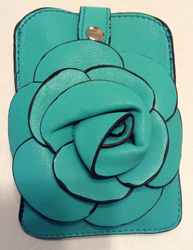 Get going, gorgeously with a Lil Flower Cellphone Purse!
Seattle WA (PRWEB) May 12, 2014
How exciting! Fans of hands-free accessories and fashionistas everywhere will be delighted to learn that the beautiful, new, Lil Flower Cellphone Purse colors have just arrived at Nifty-Nifty.com. These adorable little rose-petaled cell phone carriers are now available in navy, turquoise and ever so elegant, black without any white trim.
"I am so tickled that we are able to offer consumers even more color options, hence, more versatility, in the ever-popular Lil Flower Cellphone Purse', says Nifty-Nifty co-founder, Wendy Miller. 'I didn't think these spiffy little bags could get any Niftier. Boy was I wrong. The long-awaited turquoise really pops, the neutral navy is perfectly conservative and basic black will no doubt become a wardrobe staple among scrupulous consumers," she adds.
Explore the colorful assortment of Lil Flower Cellphone Holders here: http://www.nifty-nifty.com/lil-flower-cellphone-holder-best-cross-body-cell-phone-purse/.
Lil Flower Cellphone Purse, by Nifty-Nifty, is a compact, multi-functional, cell phone/wallet carrier, which can be worn as a cross-body bag, a hip clip, or even, a wristlet. This highly recognizable purse is perfect for those who appreciate fashion in action. With Nifty-Nifty's Lil Flower Cellphone Purse, style-savvy consumers on the go can enjoy the luxury of traveling light and having their cell phone, keys, or other small items all readily accessible.
Across the spectrum, no other cell phone carrier offers as much versatile, hands-free, pizzazz as Nifty-Nifty.com's Lil Flower Cellphone Holder. Order one (or two) today, and get going, gorgeously!
About Nifty-Nifty.com
Nifty-Nifty.com is the world's leading online retailer of innovative, nifty products. The company specializes in online retailing of products such as the Specs In A Sec Magnetic Eyeglass Holders, Italian Vintage Magnetic Eyeglass Holders, Phubby, Cell-Fie™ HipBand Cellphone Holder, Biker Purses, Cross Body Cell Phone Purses, and other innovative online products at the best prices with no charge shipping in the USA and Canada.
http://www.Nifty-Nifty.com 
Tel: 858-248-2302