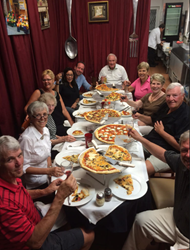 Bonita Springs, FL (PRWEB) August 01, 2017
Known for their 28-inch pizzas and Famous Kitchen Table, Lil' Italy Bistro is currently providing brand new specials for patrons during Back-to-School Month. "It's fulfilling to create specials and give back to the community," said Scott Simone, owner of Lil' Italy Bistro.
The back-to-school specials include pasta-spaghetti and meatballs on Mondays, Lasagna Night on Tuesdays, BBQ baby rack ribs on Wednesdays and Saturdays, as well as 50% off one 16- or 18-inch cheese pizza on Thursdays and Sundays only. The local eatery also offers daily lunch specials starting at $6.99.
Lil' Italy Bistro, which has a chef's table in the kitchen, seeks to serve quality Italian cuisine, fine wine, and a memorable dining experience. "The restaurant is decorated with Italian memorabilia throughout. Everyone is super friendly there. The food is family style. It is good, ol' Italian fun!" said recent patron Laurie C. of Milford, Connecticut, who hosted her son's 16th birthday at the restaurant.
In addition to summer specials, Lil' Italy Bistro offers Dinner for Two all day, every day. This offer includes a bottle of wine and a choice of two entrées, two salads, and two desserts for $39.95.
About Lil' Italy Bistro
Lil' Italy Bistro specializes in homemade Italian food and remains well-known for their fine wines, fresh toppings and 28-inch pizzas, one of Southwest Florida's largest. They also provide gluten-free salads and entrées. Lil' Italy Bistro is centrally located in Bonita Springs, FL at 28811 S. Tamiami Trail # 5 and offers online ordering for take-out as well as catering to individuals and businesses in the Bonita Springs, Naples, and Estero areas. For more information, please call (239)-676-8047 or visit http://www.lilitalybistro.com.
About the NALA™
The NALA offers small and medium-sized businesses effective ways to reach customers through new media. As a single-agency source, the NALA helps businesses flourish in their local community. The NALA's mission is to promote a business' relevant and newsworthy events and achievements, both online and through traditional media. The information and content in this article are not in conjunction with the views of the NALA. For media inquiries, please call 805.650.6121, ext. 361.