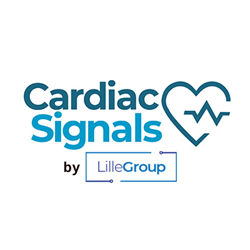 "We have been using Cardiac Signals for some time and it has enabled our practice to handle the volume of transmissions for our implant patients, prioritize and triage care while capturing all the billing automatically. Its efficiency has allowed us to improve patient care" said Dr. Augustin Delago
ALBANY, N.Y. (PRWEB) June 01, 2020
Lille Group, Inc. announced today immediate availability of Cardiac Signals, a cloud-based software platform enabling cardiology practices and hospitals to efficiently manage cardiac patients remotely, especially critical during the current COVID-19 crisis. Cardiac Signals is built on a highly secured federally certified platform and can be integrated into any Electronic Health Record (EHR) system or used in a stand-alone mode with any major internet browser such as Google Chrome. Cardiac Signals enables cardiologists and hospitals to manage high volumes of cardiac implant patients remotely easily and efficiently, improving patient care while automatically capturing all billable events.
"Lille Group has spent the last year developing an easy to use, secured platform that is able to clinically manage tens of thousands of mission critical cardiac device patients and automate the billing component for cardiology practices. We are providing a less expensive solution to customers that are struggling with server-based technology both from a financial and access standpoint. Clinicians could not routinely work from any place securely and now they can 24/7" said Jordan Rosen, CEO at Lille Group, Inc.
Thousands of patients have been managed through Cardiac Signals at Capital Cardiology Associates, a large cardiology practice in Albany, NY. "We have been using Cardiac Signals for some time and it has enabled our practice to handle the volume of transmissions for our implant patients, prioritize and triage care while capturing all the billing automatically. Its efficiency has allowed us to improve patient care" said Dr. Augustin Delago FACC, FSCAI the CEO of Capital Cardiology Associates, Director of Cardiac Catheterization Lab and Interventional Cardiology at Albany Medical Center.
Due to COVID 19 pandemic, onsite "Pacer" or "Device Clinics" have not been able to operate, delaying patient care. Cardiac implant device patients, especially heart failure patients still need to be managed and monitored closely. Cardiac Signals enables this to happen remotely with many features for Cardiologists and Nurses to provide timely patient care. In addition, these patients are at high risk of serious complications if they were to acquire severe acute respiratory syndrome coronavirus 2 (SARS-CoV-2).
Cardiac Signals delivers the remote management capability critical to providing quality management and intervention for these patients while avoiding a trip to the clinic or hospital.
Cardiac Signals Availability
Lille Group, Inc. is committed to deliver new cloud-based technology allowing easy access and implementation while giving clinicians the secure ability to work remotely from any desktop or tablet. Cardiac Signals is available for acquisition to qualified cardiology practices and hospitals. Visit http://www.lillegroup.com or through its channel distribution for more information.
Founded in 1998, Lille Group, Inc. offers a wide range of software products and solutions for hospital and private-based cardiology practices to help manage and triage their implant device patients while improving patient care remotely.
For more information, press only:
Dennis Vetrano
(781) 566-1272
dennis.vetrano@lillegroup.com
For more information on Cardiac Signals:
Website – http://www.lillegroup.com
Dennis Vetrano
(781) 566-1272
dennis.vetrano@lillegroup.com