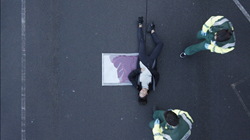 BRISTOL, U.K. (PRWEB) March 17, 2021
Postpartum hemorrhage (PPH) is the leading cause of maternal mortality, accounting for 19.7% of pregnancy related deaths worldwide. Traditionally, PPH management is taught and learnt using simulated blood. In medical simulation, the mess associated with simulated blood often results in the key aspect of blood identification being excluded completely. No longer. Limbs & Things is pleased to announce the global launch of the Clean Bleed™ Mat. Initially developed to provide a hassle-free option for PPH simulation training, the patent-pending Clean Bleed™ Mat offers medical professionals a closer to life, efficient and mess free solution for training scenarios involving fluid.
Product Development Designer Myles Bates Said: "It all started because we noticed a large problem with simulations. Simulated bleeding would make a huge mess, which would either take the SimTechs a long time to clean up between simulations, reducing the number of simulations that could run per day, or blood loss would not be simulated and key learning outcomes would be missed. So, we decided to solve it."
With the introduction of the Clean Bleed™ Mat, fluid representation in simulation has never been easier, cleaner or more repeatable. Using several innovative mechanical features, the Clean Bleed™ Mat achieves the urgency of a medical emergency by harnessing user-control, realism, and durability to make it an essential feature for any scenario where the presence of fluid is an indication of where intervention is required. For use in indoor and outdoor settings, the Clean Bleed™ Mat can also be used in conjunction with simulated patients, full-body manikins, and task trainers for comprehensive versatility.
However, there's nothing like seeing it in action, as Lauren Thelwell, the Product Manager for this project, explains: "It has been brilliant to see the positive response to Clean Bleed™ Mat from a range of customers. What struck me most was how beneficial they felt adding a visual indicator of blood loss to a simulation drill could be. They all agreed that it was the lengthy clean-up operation associated with blood simulations that had previously prevented its use. There was genuine excitement that Clean Bleed™ Mat simplified this whole process."
The Clean Bleed™ Mat can be used as an essential part of all levels of training where blood or fluid is being simulated. See it in action on our YouTube Channel, or view the product in detail at limbsandthings.com
At Limbs & Things we make medical task trainers and simulators, and our products are built with the mission of enhancing clinical training. Using extensive global research, we identify important areas in the medical training curricula and then design high-performing and affordable training solutions with the aim of improving patient outcomes. Follow us on LinkedIn for all our latest updates.