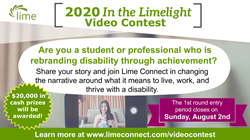 " If you have a disability, you have a story to tell. Share your story of rebranding disability through achievement with us, and empower others who have disabilities to live powerfully as well!"
NEW YORK (PRWEB) July 30, 2020
Lime Connect knows that people with disabilities all have a story to tell, and the 2020 "In the LimeLight" video contest is designed to do just that. Whether it's as a student, intern, mid-level manager, or high-level executive, individuals with disabilities bring a unique perspective and diverse talents to the world, universities and the workplace each and every day. The video contest aims to highlight that by showcasing how university students and professionals in the U.S. and Canada are rebranding disability through achievement.
Help us change the narrative by sharing your story of how you are living, working, and thriving as an individual who happens to have a disability. We're awarding $20,000 in cash prizes to the top stories!
Prizes:
First Place: $10,000
Second Place: $5,000
Third Place: $2,500
Viewer's Choice: $1,000
Honorable Mention(s): $500
Prizes are courtesy of Lime Connect special advisor Vint Cerf – Google's Chief Internet Evangelist, "One of the Fathers of the Internet," and the inspiration behind this contest.
How to Participate:
This contest has two rounds and all you need is your cell phone and a few minutes!
Round 1: Entrants will submit a short statement online that provides a little background on their disability, notes some of the daily challenges they may experience as a student or professional, and how they are rocking it!
(Due Sunday, August 2nd at 11:59pm PDT)
Round 2: Upon notification, selected semi-finalists submit a 1-2 minute video based on their essay. Adding creativity and additional information/stories beyond the round 1 essay submission is encouraged but not required.
(Due Sunday, August 30th at 11:59pm PDT, and winners will be notified by mid-September.)
Requirements:

Entrants must be an 18 or older student or professional living in the U.S. or Canada
Entrants must identify as a person who happens to have a disability*
Entrants must submit an original, unpublished work
By participating, entrants grant Lime Connect full rights to use submissions in future marketing or promotional material (see contest form for additional details)
LEARN MORE AND APPLY via this link.
More About #IntheLimelight
The #IntheLimelight video contest was inspired by Lime Connect special advisor, Vint Cerf – Google's Chief Internet Evangelist and "One of the Fathers of the Internet." As a leader in the disability community, Vint noted the serious lack of content around the experiences and success stories of people with disabilities. Lime Connect and Vint share the belief that sharing these stories will help to dispel misconceptions and highlight the value that individuals with disabilities bring to the world, universities, and the workplace and beyond. Lime Connect launched the first video contest in July 2017 with Vint Cerf as the sponsor.
More about Lime Connect
Lime Connect is a global not for profit 501(c)(3) organization that's rebranding disability through achievement. We do that by attracting, preparing, and connecting high potential university students and professionals - including veterans - who happen to have all types of disabilities for careers, scholarships, internships, The Lime Connect Fellowship Program, The Lime Connect Foundations Program and full time careers with our corporate partners - the world's leading corporations.
By working together, we are breaking stereotypes and leading companies of every size, industry and location to understand the importance of, and fully value, the talent and strengths that employees with disabilities bring to the workplace. Current programs are focused on the U.S. and Canada.
####