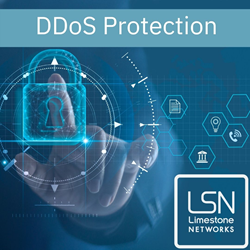 DALLAS (PRWEB) September 18, 2020
Limestone Networks x Path Network
Limestone Networks, a leading provider in bare metal and cloud hosting services, is announcing a new partnership with Path Network to provide DDoS mitigation backbone services for its datacenter facilities in Dallas, Los Angeles, New York, and Salt Lake City.
Limestone Networks is proud to announce that it has partnered with Path Network, a revolutionary provider of stateful DDoS mitigation services, to power the network backbone for its Enterprise DDoS mitigation service. Limestone Networks, through its partnership with Path, will offer its clients an invaluable amount of security and insight against threats directed at their infrastructure hosted in Limestone's datacenters.
Limestone's new Path-powered Enterprise DDoS mitigation service is available across all of its data-centers, including Dallas, TX (DFW1), Los Angeles, CA (LAX1), New York, NY (JFK1), and Salt Lake City, UT (SLC1). Distributed Denial of Service (DDoS) attacks target specific network resource capacity limits, such as the infrastructure that enables a company's website, and mitigation services inspect the large volumes of incoming traffic in order to block malicious network traffic. "Ensuring the privacy and security of all our customers is highly important to me and Limestone Networks, working hard to ensure that our customers and services have the best security infrastructure, partnering with Path Network allowed us to do so," stated Preston Gosdin, Limestone Networks COO.
Path provides unprecedented coverage and insight into website, application, and network uptime and performance. Marshal Webb, Path CEO, states, "We are excited and proud to be working with Limestone as they have expressed their interest in providing their customers with the best security infrastructure possible. During these very troubling times, we have seen a surge in cybercrime which has left the valuable data of many companies vulnerable to the wrong people. We are glad to be working with Limestone to ensure they stay secure and safe from any possible threats."
About Limestone Networks
Limestone Networks is the premier provider of on-demand cloud, bare-metal, and colocation solutions with four Data Centers located in Dallas, Los Angeles, New York, and Salt Lake City. Technical and customer support are American-based and available 24/7/365. All services include multi-layered physical security, triple redundancy, and premium bandwidth carriers. The combination of quality, state-of-the-art hardware, with fast and knowledgeable support sets Limestone apart and the new website will allow for a faster, cleaner customer experience from the start.
For more information please contact Limestone Networks via live chat or email sales@limestonenetworks.com.