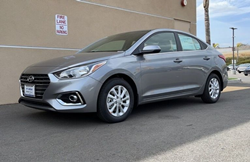 MORENO VALLEY, Calif. (PRWEB) June 10, 2021
Hyundai of Moreno Valley- a Hyundai dealership located in Moreno Valley, California, has several service specials currently running for all Hyundai vehicles. Interested parties can save more on vehicle maintenance by availing their list of service special coupons. All the offers are valid up to July 31; so, if your vehicle is due for maintenance, do have a look at the exciting offers.
The coupons in stock for automotive service specials are cooling system service, 15,000 mile service, four wheel alignment, 30,000 mile service, drive belt replacement, and tire special. Cooling system service will cost $129.95 plus tax. Four wheel alignment will cost $89.95 plus tax. 15,000 mile service will cost $199.95 plus tax. 30,000 mile service will cost $299.95 plus tax. Drive belt replacement will cost you $149.95 plus tax. The tire special coupon offers three tires for regular price and the fourth tire for $1. The charges of some services might vary depending on the model of the Hyundai vehicle. The service special coupons are available for all Hyundai car owners.
Interested customers can visit hyundaiofmorenovalley.com and learn more about the available service special coupons. For any queries call the dealership at 951-900-4284. Hyundai of Moreno Valley is open from Monday to Friday 9 a.m. to 8 p.m. and from 10 a.m. to 6 p.m. on Sunday. The dealership is located on 27500 Eucalyptus Ave., Moreno Valley.