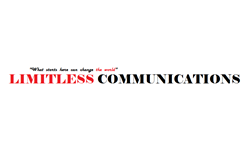 It's important to be always moving forward
Cork, Ireland (PRWEB) December 12, 2014
On the 9th of December, Limitless Communications travelled from Cork, Ireland to London's Guoman Hotel for an eye opening industry workshop, designed to help businesses cope with rapid expansion and growth. The firm, which specialises in brand marketing and communication have had an incredibly successful 2014, and as a result have not only helped their clients to boost their sales and brand awareness, but have also created a wealth of work opportunities across Ireland. Due to the firm's successes, Limitless Communications were eager to attend the London based workshop, and gain new perspectives and insights into how to tackle the exciting opportunities ahead in 2015.
About Limitless Communications: http://www.limitlesscommunications.eu/modern-about/
As well as offering advice to expanding businesses, the workshop was also designed to help new business owners and start-ups set out on the right path and get the most out of their businesses. The 4 keynote speakers invited to speak at the event covered all of the basics of building strong foundations for a successful business, with the aim of helping as many new start-ups have a prosperous 2015 as possible.
Held at London's renowned Guoman Hotel at Tower Bridge, the one day workshop ran from 10.30am to 4pm. During this time the 4 guest speakers covered topics including recruitment, the importance of online branding and financial and legal obligations and services. The Guoman hotel is one of London's premier business destinations, offering flexible meeting and event space that can accommodate up to 500 people, making it the ideal location for interactive workshops such as Tuesday's event.
Limitless Communications found the event to be a fantastic opportunity to plan for the future and integrate new perspectives into their existing business model. The firm are strong believers in attending events such as these as they believe that the skills and knowledge that they promote can help a business to grow and stand the test of time. 'It's important to be always moving forward' says Richard Moller, Managing Director of Limitless Communications.
Limitless Communications provide their clients with a comprehensive marketing service, offering solutions in brand awareness, customer acquisition and direct marketing. The firm work closely with each of their clients to create a unique marketing approach, designed to reach and engage with their target demographic. After testing each campaign, Limitless Communications then meet with customers face to face on behalf of their clients in order to create strong connections between customer and brand through the personalisation of the customer experience.