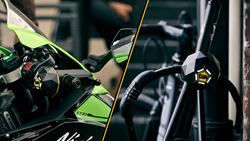 In Limpet, we believe we've created a market-leading, next-gen security device that is easy to use, fit for the world we live in, and ultimately, enables people to get more out of doing the things they love.
NORWICH, England (PRWEB) December 05, 2018
Bicycle and motorcycle theft is a global social problem reaching pandemic proportions, and rapidly-rising statistics prove that, nowadays, people need more than just a good lock to stay safe.
Whilst traditional locks make theft more difficult, they are easily overcome by savvy thieves. Trackers offer a connection to the owner via smartphone, but they fail to act as an effective, visual theft deterrent.
The Limpet smart alarm addresses this gap, incorporating a piercing piezo alarm and powerful strobe lights designed to draw maximum attention, whilst keeping the user connected through its user-friendly app, with real-time alerts and tracking wherever they are.
Made from the same super-strong polycarbonate used in the manufacture of bulletproof glass and featuring autonomous geofence (perimeter) and accelerometer (impact) attack triggers – with various sensitivity options – users can choose the arming criteria appropriate for the situation and set it and forget it.
For the very best protection, the Limpet smart alarm and its attachments should be used in conjunction with a high-grade lock, cable or chain to create a thief's worst nightmare – layers of security. However, Limpet can be used independently if there is nothing to secure the item to or simply no need to use a lock.
While Limpet is primarily aimed at the bicycle and motorcycle markets, its versatile universal baseplate means it can be used to secure practically anything – other vehicles, snowboards, boats and jet skis, horse trailers, caravans, tools, machinery, the list goes on.
In an increasingly fearful world, Geotekk was founded with the belief that anything which serves to reduce stress and anxiety in our lives enables us to be happier and "live more". Having both had bikes stolen and experiencing first-hand the stress theft causes, Matthew and James made it their mission to create an affordable, versatile, best-in-class smart alarm and tracker that would combine and improve upon the most effective features of various other security products in one super-stylish, multi-functional package.
To accomplish this lofty ambition, Geotekk has partnered with several established industry experts, including LMEC Engineering, Lysander R&D, Wireless Logic and Kwiboo – all highly regarded companies in their respective fields. Now, after 3 years of meticulous R&D and prototyping, Limpet is finally ready to make its debut.
Founder, Matthew Leach commented: "After all those years of hard work, challenges and problem solving, it's amazingly satisfying to have brought the device through from concept to launch. As we were determined not to make any compromises throughout Limpet's development, the process was far harder than we ever imagined it would be. In close collaboration with our strategic partners, we believe we've created a market-leading, next-gen security device. Limpet is easy to use, fit for the world we live in, and ultimately, enables people to get more out of doing the things they love."
To celebrate the fact that Limpet was fully funded in just 23 minutes, interested buyers can pre-order a Limpet bundle with an exclusive 45% discount on the expected RRP of £180 at kickstarter.com, but stocks are limited. Following Kickstarter, Limpet and its bespoke attachments will be available to order through the company's website http://www.geotekk.com. With strong interest from national retailers, Geotekk's revolutionary smart alarm looks set to disrupt the IoT security market.