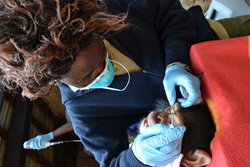 Since she was little, Lina knew she wanted to be a wildlife vet. She is our best ambassador and a hero to the girls who visit Lwiro.
PORTLAND, Ore. (PRWEB) December 15, 2020
The Pan African Sanctuary Alliance (PASA)—the largest alliance of wildlife centers in Africa—proudly announces that Lina Adolphine Nturubika is the of the Siddle-Marsden Award. Ms. Nturubika is the first female veterinarian in the eastern Democratic Republic of Congo (DRC), and has been part of the Lwiro team since 2014.
"Lina's story is incredibly inspiring," said Gregg Tully, Executive Director of PASA. "Through sheer determination, she became a veterinarian. And we're so glad she did, as she has a gift for working with primates."
Ms. Nturubika grew up in the eastern DRC. Her father, a human rights activist, was murdered when she was just ten years old. But he imparted a love of primates to her and her dream of becoming a wildlife vet was born. But it was not an easy journey. The veterinary university was far from her village and the family's financial resources were limited, so she started to study medicine. But, four years later, when a new veterinary college opened up closer by, Ms. Nturubika committed to fulfilling her dream.
"When she came to Lwiro, we were impressed by her expertise coupled with her love for the animals," said Itsaso Velez del Burgo, Director of Lwiro Primate Rehabilitation Center. "She is our best ambassador, able to explain the challenges chimpanzees and monkeys face in ways that really connect with people. And of course, she's a hero to the young girls who visit us. A true role model."
PASA gives the Siddle-Marsden award annually to an African national working in a sanctuary or wildlife center that is part of the PASA network. It carries a stipend of $250, and the winner is invited to attend PASA's annual Strategic Development Conference, an annual gathering of sanctuary directors and other leaders in primate protection. Sanctuaries nominate team members, and the PASA board of directors makes the final selection.
"People like Lina make miracles happen every day for over 3000 primates living in PASA-member sanctuaries," said Michele Stumpe, president of the PASA board. "And this year, due to the COVID-19 pandemic, sanctuary staff have gone above and beyond, maintaining a high standard of care in exceptionally challenging conditions. So the board felt strongly that it was more important than ever to honor their work. Congratulations, Lina!"
Fast Facts:

Lwiro Primate Rehabilitation Center is located in the Democratic Republic of Congo (DRC), one of 23 sanctuaries that make up the PASA network.
Lwiro is home to 283 animals, including 96 endangered chimpanzees, and it has launched a program to rescue and release endangered grey parrots
Chimp populations continue to decline due to loss of habitat, wildlife trafficking, and the bushmeat trade
PASA sanctuaries rescue, rehabilitate and provide long term care for over 3000 animals. This year, they have rescued over 250 primates.