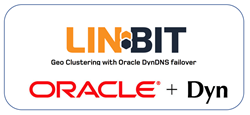 "LINBIT's industry leading data replication technology paired with Oracle Dyn's Managed DNS Active Failover technology helps ensure the highest availability and ease of routing of data across one's online infrastructure. - Patrick Harvey, Oracle Dyn
Portland, OR (PRWEB) August 16, 2017
LINBIT, a leader in open source High Availability (HA) software for enterprises and the power behind thousands of digital enterprises, today announced a breakthrough solution in conjunction with Oracle Dyn to offer an efficient DNS solution that automatically replicates and routes data across dispersed locations to power the always-on organization.
The new LINBIT and Oracle Dyn combination is a first in providing the ability to orchestrate failovers between data centers or over long distances and keep data always available. In the Linux kernel since 2009, the LINBIT DRBD software has an install base of more than 1.7 million and years of field production. LINBIT is the power behind many large enterprises and public cloud providers, and continues to build on its capabilities as it teams with Oracle Dyn.
Existing solutions with Pacemaker with Booth provided HA across the WAN but were challenged in redirecting client traffic to a new site without intervention. Data had to be routed manually, use a round robin DNS, or utilize a load balancer.
"LINBIT banks it reputation on replicating data fast and reliably. Now, LINBIT and Oracle Dyn alleviate the burden of failover management to deliver service continuity and data integrity," stated Philipp Reisner, CEO of LINBIT.
Oracle Dyn offers a Managed DNS Service with Active Failover that can monitor an IP address and update the DNS destinations if the service fails. In a matter of seconds, applications are automatically started on the new site and require no manual intervention.
"LINBIT's industry leading data replication technology paired with Oracle Dyn's Managed DNS Active Failover technology helps ensure the highest availability and ease of routing of data across one's online infrastructure. These two technologies form a simple and elegant solution," said Patrick Harvey, Technology Ecosystem at Oracle Dyn.
Brian Hellman, COO of LINBIT stated, "LINBIT and Oracle Dyn are a powerful combination of two leaders: LINBIT migrates the data, and Oracle Dyn reroutes the DNS traffic. It's that simple." Download the new Tech Guide on geo-clustering at https://www.linbit.com/en/resources/102-disaster-recovery/geo-clustering-drbd-8-rhel-7/.
About LINBIT
LINBIT is the force behind DRBD and the de-facto open standard for High Availability (HA) software for enterprise and cloud computing. DRBD is deployed in thousands of mission-critical environments worldwide to provide HA, Geo Clustering for Disaster Recovery (DR), and Software Defined Storage (SDS) for OpenStack based clouds. Visit us at: http://www.LINBIT.com, https://twitter.com/linbit, or https://www.linkedin.com/company/linbit
About Oracle Dyn
The Oracle Dyn Global Business Unit is a pioneer in managed DNS and a leader in cloud-based infrastructure that connects users with digital content and experiences across a global internet.
Oracle Dyn's solution is powered by a global network that drives 40 billion traffic optimization decisions daily for more than 3,500 enterprise customers, including preeminent digital brands such as Netflix, Twitter, LinkedIn and CNBC. Adding Oracle Dyn's best-in-class DNS and email services extend the Oracle cloud computing platform and provides enterprise customers with a one-stop shop for Infrastructure-as-a-Service (IaaS) and Platform-as-a-Service (PaaS). Visit us at: https://dyn.com
Trademarks
Oracle and Java are registered trademarks of Oracle and/or its affiliates.