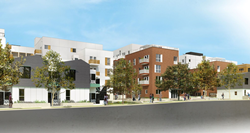 ...we're also looking forward to how this complex will tie the whole neighborhood together and create a sense of community. We believe that everyone deserves a place to call home, and we're committed to making that belief a reality in Glendale.
GLENDALE, Calif. (PRWEB) March 15, 2023
Nonprofits National CORE and Linc Housing joined the City of Glendale and other partners to celebrate the start of construction on 515 Pioneer Drive, a new 340-unit affordable housing community for families and seniors – one of the largest affordable communities in California.
"I am excited that this new apartment community will offer a range of affordable housing options for seniors and families, and ensures that we are doing our part to provide those in need with a safe and comfortable home," said Glendale Mayor Ardy Kassakhian. "But it's not just about putting a roof over someone's head - we're also looking forward to how this complex will tie the whole neighborhood together and create a sense of community. We believe that everyone deserves a place to call home, and we're committed to making that belief a reality in Glendale."
The all-new complex, located at 515 Pioneer Drive, will feature 340 apartments in three, five-story buildings for households making between 30% to 80% of the area median income. One building will have 32 studios and 60 one-bedroom apartments reserved for low-income seniors ages 62 and older. The other two buildings will include one- and two-bedroom general affordable homes. Each building will also have a two-bedroom manager unit.
"The way to address the affordable housing shortage in Southern California is to get more housing built as quickly as possible," said Michael Ruane, president, National CORE. "Glendale's leadership understands the urgency of the situation, and they've stepped up to bring these new homes to their community. National CORE and Linc Housing applaud the City of Glendale for their leadership, and we're proud to work alongside them to be part of the solution to the housing crisis."
The new buildings will provide 13,600 square feet of private open space and 37,750 square feet of common open space including community centers, outdoor recreation areas, playground, community gardens, outdoor courtyards with BBQ picnic areas, rooftop decks, and a walking path. Linc Housing will provide onsite resident services programming, including youth empowerment, health and wellness, and adult skill-building programs.
"Providing stable affordable housing is the first step, but we don't stop at just building the homes," said Rebecca Clark, CEO, Linc Housing. "We want to create the space for new residents to build a community of empowerment, support and connection. Our team will bring programs that build confidence in kids, build skills for every age, and build friendships and cooperation that make neighborhoods and communities thrive. We look forward to meeting all the new residents at the grand opening."
515 Pioneer Drive will feature all-electric appliances and will meet Leadership in Energy and Environmental Design (LEED) Gold rating from the U.S. Green Building Council. The building will include 342 parking spaces in a two-level subterranean parking garage, including 35 EV-ready stalls.
Residents of 515 Pioneer Drive will be conveniently located within walking distance of Fremont Park and the Glendale Beeline Bus Route 5 stop at Doran/Pacific. The community is also located within one mile of the Glendale Central Library, Glendale Family Medical Center, grocery stores, restaurants, and pharmacies.
Funding for the development comes from a variety of sources including multifamily housing revenue bond proceeds through Bank of America construction lending, low-income housing tax credits, City of Glendale Measure S Funds, Low and Moderate Income Housing Asset Fund, HOME Program Funds, CalHFA HUD-Risk Sharing Program and Mixed-Income Program Funds, and other private and public funding sources.
The community was designed by KFA Architecture, and the general contractor is National CORE. The anticipated completion of 515 Pioneer Drive is late 2025.
About Linc Housing Corporation
Linc Housing, one of California's most productive nonprofit developers of affordable housing, is committed to building communities and strengthening neighborhoods for people underserved by the marketplace. Linc has helped create more than 9,000 homes in 92 communities throughout the state. The organization's properties are known for excellent design, outstanding management and life-enhancing services for its residents. Linc has nearly 40 years of service to families, seniors, people with special needs, and local governments - helping to create sustainable communities via new construction, acquisition and rehabilitation, and historic preservation. Visit http://www.Linchousing.org for more information.
About National CORE
National CORE is one of the largest nonprofit developers in the nation, with a 30-year history of being an innovator in the field. In 2021 National CORE became one of only two affordable housing developers to earn an A+ credit rating from Standard & Poor's Global Ratings. In 2022, National CORE issued $100 million in Series 2022 Social Bonds to accelerate the development of critically needed affordable housing. Serving more than 25,000 residents, National CORE strives to be a launching pad, not a landing pad, for families struggling financially. In 1998 National CORE created the Hope through Housing Foundation, a philanthropic nonprofit, whose mission is to end the cycle of generational poverty through resident services that promote educational attainment, economic mobility, and overall wellbeing.