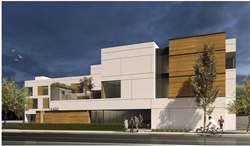 Homelessness can be devastating to a young person's future...we are turning this old County Library site in South Whittier into affordable homes for young people so they can focus on building the type of life they want for themselves. - Supervisor Janice Hahn
SOUTH WHITTIER, Calif. (PRWEB) February 02, 2021
Linc Housing, a nonprofit developer and manager of affordable and supportive housing throughout California, started construction on The Nook, a 27-unit apartment community in South Whittier, an unincorporated area of Los Angeles County.
Linc worked closely with the County of Los Angeles to create plans for a vibrant supportive housing community serving transition age youth, 18- to 24-years old, in need of stable housing. The new building will address the demand for additional affordable housing in the neighborhood, while giving new life and energy to an underutilized former library site. Jovenes, a nonprofit dedicated to ending the cycle of homelessness for young adults, will provide intensive case management for the residents.
"Homelessness can be devastating to a young person's future," said Los Angeles County Supervisor Janice Hahn. "Too many students are forced to choose between paying rent and staying in college. We are turning this old County Library site in South Whittier into affordable homes for young people so they can focus on building the type of life they want for themselves."
The new community, located at 14433 Leffingwell Road in South Whittier, will have 26 one-bedroom homes and one two-bedroom manager's unit. The modern building design blends well into the community. The complex will feature a computer lab, community room, patio, second floor roof deck, and a community kitchen. These spaces will be conducive to group educational experiences and trainings. As is its usual practice, Linc will incorporate sustainable construction and design features. Energy- and water-efficient measures not only help the environment but also decrease residents' future utility costs, freeing up income for other necessities.
"Young adults who haven't had the benefit of family support and struggle with housing stability are at great risk of becoming chronically homeless," said Suny Lay Chang, president and chief operating officer, Linc Housing. "Instead of dreaming about their futures as they begin their independent lives, they're wondering where they're going to sleep. Our goal is to address this problem head on by providing a roof over their heads as well as supportive services to help ensure success."
Linc's supportive services partner, Jovenes, Inc. realizes that changing lives requires significant, long-term investment into each individual. Jovenes specializes in providing housing and supportive services to youth experiencing homelessness throughout Southeast Los Angeles County. They offer individualized case management services focused on supporting residents in their personal development. Jovenes also provides referrals and support for issues related to mental and physical health as well as substance abuse and legal needs. The nonprofit surrounds clients with supportive services and resources to enhance the effectiveness of affordable housing. The services aim to help them find jobs, further their education, manage their finances, develop personal relationships, and boost their self-esteem.
"We believe that homelessness should never limit a young persons' dreams or goals," said Andrea Marchetti, executive director, Jovenes. "We are excited to partner with Linc Housing to open The Nook in South Whittier. This community represents a significant investment in creating much needed affordable and supportive housing for youth in need. It will provide homeless youth with a home where they can develop a vision for their future and a foundation for an independent, self-sufficient life."
Funding for the development comes from a variety of sources including construction and permanent loans from Capital One, and $3.9 million from the Los Angeles County Development Authority (No Place Like Home funds). The County of Los Angeles provided a permit fee waiver and ground lease for the site. The Los Angeles County Department of Health Services will provide funding for the intensive case management services. The California Endowment and LISC Los Angeles provided predevelopment support.
The Nook was designed by Van Tilburg, Banvard & Soderbergh, and it will be built by Walton Construction Inc. Construction of affordable housing has been designated an essential activity during the COVID-19 pandemic, and the construction team will follow recommended safety protocols to keep the job site safe. The development is due to be completed in mid-2022. All apartments will be filled through referrals from the County of Los Angeles Coordinated Entry System (CES).
About Linc Housing Corporation
Linc Housing, one of California's most productive nonprofit developers of affordable housing, is committed to building communities and strengthening neighborhoods for people underserved by the marketplace. Linc has helped create nearly 8,800 homes in 88 communities throughout the state. The organization's properties are known for excellent design, outstanding management and life-enhancing services for its residents. Linc has 36 years of service to families, seniors, people with special needs, and local governments - helping to create sustainable communities via new construction, acquisition and rehabilitation, and historic preservation. Visit http://www.Linchousing.org for more information.
About Jovenes
Jovenes (which translates to 'youth' in Spanish) was founded in 1989 on the core belief that every person deserves not only the right to safe housing, but also the opportunity to build a successful future. Jovenes provides a complete continuum of care that moves homeless youth and college students off the streets and into their own apartments. Jovenes is a regional leader in Southeast LA County, with the capacity to house over 350 youth on any given night and partnerships with local colleges and universities to address the crisis of student homelessness. Jovenes' mission is to provide opportunities for homeless youth so that they can become active and integrated members of our community. For more information, please visit http://www.jovenesinc.org.