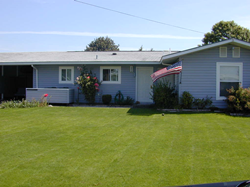 "These renovations will provide our military families with floor plans, features, and finishes that mirror those of housing off-post. Our military families deserve nothing less."
NEWPORT BEACH, Calif. (PRWEB) December 07, 2020
Lincoln Military Housing (LMH), partner to the U.S. Army for the construction and management of on-base housing at Joint Base Lewis-McChord (JBLM), continues to deliver on its commitment to improving military housing, has begun a $71.12 million project at Joint Base Lewis-McChord impacting 429 homes in the Davis Hill Community.
"We are excited about the changes this project will bring to the Davis Hill Community," Kevin Clarke, National Vice President of Construction & Environmental Services. "These renovations will provide our military families with floor plans, features, and finishes that mirror those of housing off-post. Our military families deserve nothing less."
This major renovation project began on November 30, 2020, and will be conducted over the next six years and is part of the long-term goal of renovating legacy homes throughout the portfolio.
All units will receive a significant renovation to the exterior and interior. The interior layouts are being modified to enlarge the bathrooms and create open floor plans.
The exterior scope includes; new siding and trim, conversion of carports to garages, new windows and sliders, new light fixtures, and front yard landscape & hardscape.
The interior renovations will include new electrical panels and wiring, new switches and plugs, new electrical fixtures, new plumbing water lines, new plumbing fixtures, air conditioning, new cabinets and countertops, new appliances, new luxury vinyl plank flooring with new baseboards and trim, and new window coverings.
Lincoln Military Housing has designed and built over 140 brand new homes and has meticulously renovated over 3,100 existing homes at Joint Base Lewis-McChord as part of a multi-year renovation initiative that began in the summer of 2020.
As part of the Military Housing Privatization Initiative (MHPI), Lincoln Military Housing uses net operating revenues to improve existing homes and infrastructure and build new assets for communities. The cash flow and returns from the partnerships are reinvested in the program, ensuring the long-term financial health of the MHPI.
About Lincoln Military Housing
Lincoln Military Housing (LMH) was formed in 2001 through a Department of Defense (DOD) contract with parent company Lincoln Property Company. The goal has always been to increase the quality of military housing for our nation's servicemen and women. Since its inception more than a decade ago, Lincoln Military Housing now provides more than 36,000 family homes for military members across the US. Lincoln is much more than a property management company. LMH acts as a support system for military families and offers community-building activities and 24-hour maintenance assistance programs, free, to all of their residents. Services are available for members of all branches of service -- Marine Corps, Army, Navy, Air Force, United States Coast Guard, and National Guard. For more information about Lincoln Military Housing, please visit http://www.lincolnmilitary.com for more information.