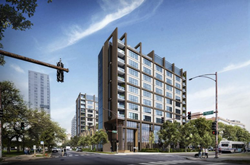 CHICAGO (PRWEB) January 10, 2023
Lincoln Property Company and Gilbane Building Company recently received approval for the complete building permit for a new high-rise residential development located at 4600 N. Marine Drive in the Uptown neighborhood of Chicago. This achievement allows the team to proceed with construction as planned.
"Having the building permit approval in hand is exciting progress for the project at 4600 N. Marine Drive" said Joe Segobiano, Lincoln Property Company Vice President. "We appreciate the support of many in the Uptown neighborhood who made this project a reality and look forward to bringing added housing and value to the local area."
Designed by Valerio Dewalt Train, the 12-story building will incorporate approximately 300+ residential units consisting of studio, one-, and two-bedroom configurations, affordable units, and an above-ground parking facility. The courtyard-style structure is planned to feature a grand lobby with café bar, bike room, clubroom, extensive remote work spaces, 12th floor private dining room, and will feature local artwork throughout the community. The residential high-rise will provide unobstructed views of Lake Michigan, the Chicago skyline, and easy access to the lakefront trail.
"Gilbane is excited to progress forward in the construction of the 4600 N. Marine Drive development," said Jim Arends, Gilbane Building Company Vice President. "We look forward to continuing to support Lincoln Property Company and the community by offering an elevated residential experience."
About Lincoln Property Company
Lincoln Property Company was founded in 1965 by Mack Pogue as a builder and operator of high-quality residential communities. Headquartered in Dallas, Lincoln focuses on real estate investment, construction and development, in addition to property management. In 2019, Lincoln Property Company's residential division formed a strategic partnership with Cadillac Fairview (CF), a globally focused owner, operator, investor, and developer of best-in-class retail, office, residential, industrial and mixed-use assets. Wholly owned by the Ontario Teachers' Pension Plan, CF manages in excess of $36 billion of assets across the Americas, Asia, and the United Kingdom, with further expansion planned into Europe. Lincoln is currently the second largest multifamily manager in the United States with more than 210,000 units under management. For more information about Lincoln Property Company, please visit http://www.lincolnapts.com/business-services.
About Gilbane Building Company
Gilbane provides a full slate of construction and facilities-related services – from preconstruction planning and integrated consulting capabilities to comprehensive construction management, general contracting, design-build, and facility management services – for clients across various markets. Founded in 1870 and still a privately held, family-owned company, Gilbane has more than 45 office locations worldwide. Since 1978, Gilbane has delivered innovative construction solutions in Chicago for clients across multiple market sectors, including healthcare, higher education, K-12, and public sector, corporate and interiors, developer, residential, life sciences, and industrial.