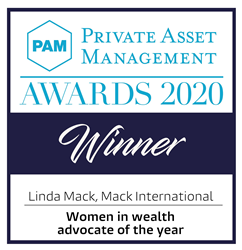 "It's an honor and privilege to be chosen for this award. I have found my inspiration in some very talented and courageous women and am committed to paying that forward."
CHICAGO (PRWEB) February 18, 2020
Linda Mack of Mack International was awarded "Women in Wealth Advocate of the Year" and received the designation of "Highly Commended" in the "Best Family Office Consulting Firm" category by Private Asset Management Magazine, a leading wealth management, and family office industry publication, as part of the 2020 PAM Awards, announced February 6 in New York City. For over two decades the Private Asset Management Awards have recognized the "best of the best" performers and are a sought-after industry accolade. These awards recognize and reward top investment professionals, wealth advisors, legal firms, consultants and other key service providers operating within the private asset management sector.
This is Linda's second consecutive year being named "Leading Woman's Advocate," demonstrating "extraordinary mentoring for females seeking leadership roles." "I remember the challenges of starting my own business 18 years ago and continue to be dedicated to sharing my experiences and lessons learned. Guiding and supporting women into senior-level positions and helping women entrepreneurs build their businesses successfully is a great source of personal satisfaction," said Linda. "It's an honor and privilege to be chosen for this award. We all succeed when we empower and encourage each other. I have found my inspiration in some very talented and courageous women and am committed to paying that forward."
Mack International, headquartered in Chicago, is a premier boutique firm specializing in providing C-suite retained executive search and strategic consulting solutions to family offices, family investment firms and family enterprises on an international basis. Clients range from first-generation business-owning wealth creators/entrepreneurs building a family office for the first time through multi-generational families of six or more generations.
The PAM Awards, organized by Private Asset Management magazine, recognize and reward those who have successfully serviced high-net-worth individuals in an increasingly complex economic environment. Award winners in 42 categories were selected by an independent panel of judges based on financial progress, growth, client satisfaction and product innovation over the previous year.
The prestigious award was presented to Linda Mack during an awards ceremony attended by over 300 industry colleagues. "Being recognized this year in the consulting category was particularly thrilling," said Linda. "We are strategic consultants and trusted advisors who help our clients define their long-term vision, mission, and objectives and build and execute a plan to accomplish it. Our consulting ranges from strategic planning and 360 assessments to succession planning, generational transitions, governance, organizational design, performance management, executive compensation, and retention strategies. We bring the breadth and depth of our unique experience to our clients on each engagement."
About Mack International LLC
Mack International is the premier, a boutique retained executive search and strategic management/human capital consulting firm serving national and international clients in the family office, family business enterprise and the wealth management industries on a national and international basis. Founded in 2002, the firm has achieved an exceptional track record of success as evidenced by its unmatched industry expertise, in-depth market knowledge and unparalleled track record of success. Founder and President, Linda C. Mack has established proprietary methodologies such as the Mack 360© and is credited for having coined the term "expert generalist" in the industry.
About the PAM Awards
PAM Awards are designed for investment advisors and wealth professionals, operating within the private asset management industry, who have proven to be the best and most knowledgeable in the industry. The judging process, using an independent panel made up of wealth industry experts, is based on a mixture of qualitative and quantitative performance indicators. Successful candidates have demonstrated exemplary performance in four critical categories: Financial Progress, Growth, Client Satisfaction, and Product Innovation.