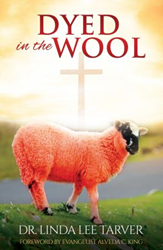 Dyed in the Wool requires women in politics to choose a side: the Lord's side
LANSING, Mich. (PRWEB) August 16, 2018
Within the pages of Linda Tarver's new book, Dyed in the Wool: A Biblical Guide for Republican Women ($9.99, paperback, 9781545639672; $4.99, e-book, 9781545639689), readers will find 12 short stories of faith-filled women in the Word of God. Tarver hopes Dyed in the Wool can inspire all women, especially Republican women, to become irrevocably embedded in the Party of Freedom and Progress and in Christ Jesus.
Primarily written for Republican women, Dyed in the Wool focuses on individual characteristics of ordinary women with extraordinary and conservative purpose.
"Dyed in the Wool requires women in politics to choose a side: the Lord's side," said Tarver.
Tarver believes the highly partisan political climate of today has made a turn for the worst. Nevertheless, the Lord has not changed and expects His children to be about His business. This book shows Republican women the way politically, professionally, and personally.
Dr. Linda Lee Tarver is President of the Republican Women's Federation of Michigan (RWFM) and former adviser to the Frederick Douglass Society. An outspoken and effective political activist, she was inducted into the RWFM Hall of Fame in 2017.