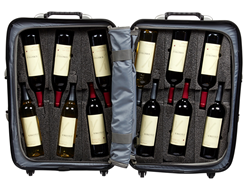 The latest versions of our wine suitcases are the most luxurious, versatile wine and spirits luggage available.
SANDIA PARK, N.M. (PRWEB) November 10, 2018
Unlike anything in the market, the VinGardeValise® suitcases are the ultimate wine carriers that let you travel confidently, secure in the knowledge that your wine and bottled beverages will safely reach your destination.
The new and improved version introduces a modern ribbed designed exterior shell for stronger performance, enhanced proprietary case material, reinforced trolley assembly, conveniently relocated TSA-approved locking system and includes an all-new HomingPIN® lost luggage locator accessory. Still proudly backed by the Company's 10-year manufacturer's limited warranty, the new Grande 12-bottle 05 and Petite 8-bottle 03 models are offered in updated sophisticated color choices, perfect for the holiday gift giving season.
Line Sales LLC President/CEO Marlene Hulten, explained, "This year we have been underway with some exciting developments for our VinGardeValise® product line, focusing on improving the customer experience, continued innovations that raise the bar, and ensuring the best quality possible. The latest versions of our wine suitcases are the most luxurious, versatile wine and spirits luggage available and we believe the VinGardeValise® has set itself apart as a true flagship product that is unmatched by any other product found on the market."
In addition to the Grande and Petite suitcases, Line Sales LLC will be introducing two additional product configurations and customization options in response to the growing needs of its customers.
Debuting in Q4'18, the new 5-bottle Piccola will become the third model to complement the VinGardeValise® collection. Designed to fit in the airline cabin overhead compartment (when not transporting liquids), the Piccola offers the versatility of transporting up to 5 bottles, but can also serve as a carry-on for personal travel needs.
Forecasted for an early Q1'19 introduction will be the VGV® PRO. This commercial model has been designed for the Wine Distributor's salesforce to facilitate a truly professional presentation of their wine and spirits products to their customers.
New customization services are also now available. Keeping in line with our highest quality standards, Line Sales LLC will work together with larger volume customers to tailor a customized, co-branded solution to meet the customer's specific application and goals.
With patents held in over 40 countries, Line Sales LLC markets the VinGardeValise® products and services through an expanded network of global authorized Business Partners and Retailers in US, Canada, Latin America, Europe and Asia.
For more information please contact Marlene Hulten, President/CEO at (505) 720-1635; email marlene@vingardevalise.com