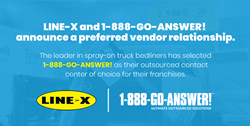 At LINE-X we are always looking for ways to support our Franchise Network. Finding partners like 1-888-GO-ANSWER! is an important part of our ongoing commitment to providing the best service and support to franchise owners - Dennis Weese, president of LINE-X
GARDEN CITY, N.Y. (PRWEB) May 20, 2019
LINE-X is widely known as the market leader in spray-on truck bedliners, and with over 25 years of industry experience and technical expertise, their applicators are the best in the business. Their passion for protection and innovation has expanded LINE-X applications beyond bedliners into other areas of the automotive aftermarket — like specialty automotive coatings and accessories — as well as the commercial, industrial, and manufacturing realms.
"The partnership between 1-888-GO-ANSWER! and LINE-X will offer LINE-X franchisees with more than just preferred pricing, it will provide them with the competitive edge of always having their calls answered," said Adam Alovis, CEO of 1-888-GO-ANSWER!.
1-888-GO-ANSWER! has pioneered 24/7 outsourced inbound/outbound contact center services for the digital era. With three state-of-the-art contact centers located in New York, Florida and St. Lucia, the company is able to offer unprecedented levels of human customer service while promoting efficiency, increasing redundancy, and increasing affordability for its partners.
"At LINE-X we are always looking for ways to support our Franchise Network. Finding partners like 1-888-GO-ANSWER! is an important part of our ongoing commitment to providing the best service and support to franchise owners," said Dennis Weese, president of LINE-X. "Every LINE-X Franchisee works extremely hard to grow their LINE-X business and the brand, and our job is to give them the tools they need to succeed. We're thrilled to have premier partners join the LINE-X support network."
To learn more about 1-888-GO-ANSWER!, visit https://www.1888goanswer.com/
To learn more about LINE-X, please visit http://www.linex.com/
ABOUT 1-888-GO-ANSWER!
1-888-GO-ANSWER!, is a New York-based bilingual contact center that handles phone calls, web-chats, ticketing, and emails for companies of all shapes and sizes. 1-888-GO-ANSWER! provides the following services for companies: order entry, customer support, appointment setting, and message taking. With the mantra, "never miss an opportunity," 1-888-GO-ANSWER! has become the contact center of choice for all industries: legal, real estate, home services, medical, financial lenders, and eCommerce.
ABOUT LINE-X
LINE-X LLC (http://www.LINE-X.com) is a global leader in high performance polyurea protective coatings offering scientifically formulated polymers that permanently bond to a wide range of surfaces for unmatched durability. With the launch of the brand's Truck Gear by LINE-X accessory line, LINE-X's near-'unbreakable' coatings are complemented with premium, stylish truck offerings to make for a true one-stop truck customization solution at franchise locations across the United States and the globe. With prominent applications in the automotive, military, commercial, light industrial, heavy industrial, agricultural, marine and personal customization worlds, LINE-X brings legendary protection to any business or manufacturer serious about protecting and prolonging the life of its products. Headquartered in Huntsville, Ala., LINE-X supports more than 660 customers in 70 countries, manages eight warehouses across six continents, and employs an award-winning chemistry team with state-of-the-art product innovation lab. Follow LINE-X on Twitter @LINEXProtects, become a fan on Facebook of LINE-X Protective Coatings, follow LINE-X on Instagram @LINEXNorthAmerica, and check out what LINE-X is doing on YouTube at: http://www.youtube.com/LINEXProtects.