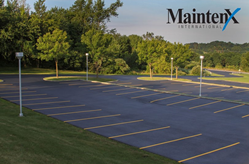 Facility managers trust MaintenX's knowledgeable technicians with their parking lot sealing and striping needs.
TAMPA, Fla. (PRWEB) August 16, 2019
In Florida, facility managers are constantly battling the damage that intense heat and driving rain can cause to parking lots. Often, parking lots are the first impression a potential customer or future employee has of a business. That's why facility managers trust MaintenX's knowledgeable technicians with their parking lot sealing and striping needs.
Throughout the state, MaintenX's technicians bring their commitment to customer satisfaction and eye for detail to parking lots in need of care. To start the renewal process, all vegetation growing in potholes or cracks is removed and treated with herbicide. Next, potholes are repaired and major cracks are sealed. Finally, MaintenX technicians apply an Asphalt Emulsion Seal Coating, which helps protect from wear and tear as well as giving it an attractive look. Once the seal is cured, MaintenX stripes the asphalt according to customer specifications.
"MaintenX's sealing and striping services are unique in that we completely self-perform. With our team, facility managers know they'll get the best service, from preparing the lot for sealing all the way through the final touches as we paint curbs and wheel stops," said Bill Schaphorst, MaintenX's VP of Business Development.
In addition to wear and tear from sun and weather, parking lot surfaces are susceptible to oxidation, oil and gas infiltration, and tire marks. Oxidation, when asphalt starts to turn from slate black to tired grey, is a sign of age, wear, and surface deterioration. This deterioration, which results in brittleness and cracking, can facilitate even more damage as water seeps into open spaces.
Surface and striping deterioration is also a safety risk. Good striping helps direct traffic flow, provides safe crossing for pedestrians, and designates spaces for handicapped access. Poor or faint striping can conversely harm the experience of customers and employees, making your lots less easily navigable and therefore less safe.
Properly sealing and striping parking lots helps businesses save money in the long run. Sealing asphalt surfaces extends their lifetime and reduces long-term repair costs. Additionally, fresh striping can help maximize parking spaces and increase curb appeal, helping to support a business's bottom line.
For more than 40 years, MaintenX International has been providing maintenance service to businesses across the nation. MaintenX specializes in creating personalized preventative maintenance schedules for any size facility, for needs from curb to roof. MaintenX takes pride in providing superior facility maintenance with a focus on customer satisfaction and safety.
For more information about MaintenX, visit http://www.maintenx.com.
ABOUT MAINTENX INTERNATIONAL:
MaintenX International is a fully licensed, facilities repair company. As one of the largest national self-performing facility maintenance and repair companies in the U.S., MaintenX has created a wide network of knowledgeable and professional technicians throughout the country. With their team of well-trained technicians, MaintenX self-performs and manages facility maintenance for their clients. In the event there is not a MaintenX technician in an area, the company has established a network of preferred vendor partners throughout the country for continued superior service for their clients. For more than 40 years, MaintenX has been expertly serving multi-location retail stores, restaurant chains and Fortune 500 companies nationwide.