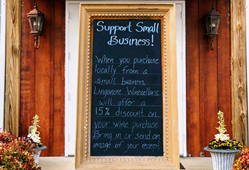 "It's one way that we can help to support our fellow business owners." - Melissa Aellen, Linganore Winecellars
MT. AIRY, Md. (PRWEB) March 28, 2020
As a small business, Linganore Winecellars fully understands the challenge that all local purveyors face during the Covid-19 Pandemic Crisis.
"We're all in this together," said Melissa Aellen, family member and third-generation winemaker. "We want to support our local small businesses during this unique period."
When you purchase locally from a small business, Linganore Winecellars will offer a 15% discount on your wine purchase. Bring in or send an image of your receipt.
You can submit a picture of your receipt via DM or email (info@linganorewines.com) to receive an online coupon code, or show your receipt in the tasting room for a discount at the winery. Wine Club Members receive an additional 5% off their order. Receipts must show purchases after March 15th, the date in which state restrictions were implemented. Discount cannot be applied with other quantity discounts and are limited to one use per customer.
Aellen adds, "It's one way that we can help to support our fellow business owners. Hopefully, we can all make it through this crisis by working together, and the support of our communities."
Please visit the link below to take advantage of this offer.