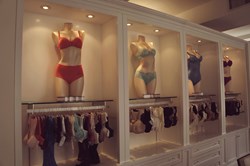 New York, NY (PRWEB) August 31, 2013
The Lingerie Journal is launching a new editorial feature called "Showroom Visits" designed to showcase intimate apparel showrooms in the United States and around the world.
"Our goal is to help connect lingerie brands with more buyers with this new editorial column," said Luis Paredes, publisher of the Lingerie Journal. "We hope that the photos, interviews and videos we'll be taking in showrooms around the world will help connect more businesses."
The first brand to be featured in the new column will be Simone Pérèle.
Paredes visited the showroom earlier this month to see the brand's upcoming SS14 collection. That article will debut in early September.
Paredes plans on having one showroom featured each month on the Lingerie Journal going forward.
A few teaser images to the debut article have already been posted on the Lingerie Journal's Facebook page here:
https://www.facebook.com/media/set/?set=a.10151800200059099.1073741831.316401294098&type=1&l=e65ee310ca
Brands interested in participating in this new feature should contact the Lingerie Journal editorial board using the site's contact form: http://thelingeriejournal.com/contact-the-lingerie-journal/.
About The Lingerie Journal
The Lingerie Journal is the number one online lingerie trade publication in the United States reaching hundreds of consumers, buyers, lingerie retail store owners, independent lingerie designers, wholesale manufacturers, influential lingerie bloggers, and other intimate apparel professionals (as well as those in related fields) on a daily basis. Follow and interact with the Lingerie Journal on Twitter to learn more @lingeriejournal.