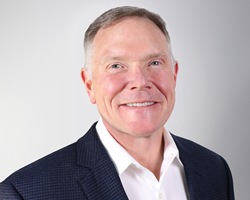 Mike has an exemplary record of sales and marketing leadership and success. – Jim Huls
SIOUX CENTER, Iowa (PRWEB) February 13, 2020
Link Mfg., Ltd., the leader in specialty-engineered suspensions, announced that it has appointed Mike Leakey to the position of vice president of sales and marketing.
Leakey brings more than 32 years of sales, engineering and marketing management experience to his new post. Prior to joining Link, Leakey held numerous executive positions with IMMI, including: managing director – truck and defense, director of sales – on-highway, vice president of marketing and vice president of sales. His educational credentials include a master's degree in business administration from Indiana University. Leakey also holds a bachelor of science degree in mechanical engineering from Rose-Hulman Institute of Technology.
"Mike has an exemplary record of sales and marketing leadership and success," said Jim Huls, president of Link Manufacturing. "His deep and intimate understanding of the commercial vehicle marketplace will be an extraordinary asset as we continue to execute our strategy for growth."
Todd Smith, Link's new senior OE account manager, is an experienced sales and marketing professional with a background of more than 21 years of selling highly engineered products, systems and components to on- and off-highway OEMs. Smith most recently served as national account manager for Neenah Enterprises. He has held various account management positions throughout his career with companies such as Dana Corporation, ZF Industries and Bendix Commercial Vehicle Systems. Smith holds a bachelor degree in business administration from the University of Toledo.
"We have a great deal to accomplish in the coming months, and Todd's OE sales and account management acumen will prove invaluable as we continue to expand existing business and penetrate new market segments with Link's revolutionary new technologies," Leakey said. "I'm excited to have him as part of our expanding account management team."
To access high-resolution images of Mike Leakey and Todd Smith, please visit: https://www.linkmfg.com/news/2020/link-appoints-industry-veteran-mike-leakey-as-its-new-vice-president-of-sales-and-marketing
About Link Mfg., Ltd.
Link develops and manufactures a variety of suspension systems specially engineered to address the unique needs of commercial vehicles and equipment. Link is driven to outperform as the worldwide leader in heavy-duty truck cab air suspensions marketed under the brand name Cabmate. U.S.-based Link Manufacturing is an ISO 14001: 2015 (EMS) certified company whose primary products include cab, chassis and auxiliary suspensions. Canadian-based Link Suspensions of Canada is an ISO 9001 certified company whose primary products include heavy vocational and off-highway chassis suspensions. Link also makes specialty products such as tire pressure equalization systems, ramps and other products designed to enhance the productivity of commercial vehicles. For more information, visit https://www.linkmfg.com.