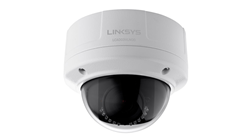 Linksys IP security cameras can do more than record video...
Milwaukee, WI (PRWEB) November 26, 2014
Businesses are more secure than ever thanks to IP camera surveillance. IP Phone Warehouse is expanding its product offering of IP surveillance solutions with the cutting-edge IP security cameras from Linksys. These cameras provide businesses with high-definition images, scalability, remote accessibility and more.
Four models of Linksys IP cameras are available:

Linksys LCAD03FLN
Linksys LCAD03VLNOD
Linksys LCAB03VLNOD
Linksys LCAM0366OD
The Linksys LCAD03FLN and LCAD03VLNOD IP cameras are dome-style devices with 1080p image sensors and night vision capabilities. Automatic infrared-cut filters improve imaging in bright or dark environments. Mount the Linksys LCA03VLNOD camera outdoors, featuring an IP67- and IK10-rated casing to protect the electronics from weather and damage.
Wall-mount the Linksys LCAB03VLNOD camera indoors or outdoors, in daytime or nighttime. This bullet-style camera is protected by an IP67-rated and vandal-resistant casing, ready for temperatures down to 40 degrees below zero Fahrenheit. A powerful image sensor with an infrared-cut filter readies the camera for crisp video all 24 hours of the day.
For more discreet surveillance, the Linksys LCAM0366OD camera is the best choice. A miniature form factor lets this dome-style camera hide in plain sight. Set up the camera indoors or outdoors, with a casing built to withstand harsh weather like wind, rain and snow. The lens offers a maximum view of 360 x 180 degrees to watch over a wider area through a single camera.
Linksys IP security cameras can do more than record video in any condition. They also carry a range of other features, including:
Motion and audio detection, and alarms
Built-in microphone for audio input
Audio output for two-way communications
ONVIF compliance
Onboard SD/SDHC card slot
PoE power supply
Digital pan, tilt and zoom
In addition to the IP cameras, IP Phone Warehouse also offers the Linksys LRN0208C network video recorder. Complete any IP camera network with these IP surveillance solutions. See the full line of Linksys security solutions here: http://www.ipphone-warehouse.com/Linksys-IP-Cameras-s/2247.htm.
Contact IP Phone Warehouse by email: service(at)ipphone-warehouse(dot)com or phone: (888) 201-9056 to learn more about IP surveillance, Linksys and other critical business security solutions.
About IP Phone Warehouse
IP Phone Warehouse is the leading specialty reseller of VoIP phones, video conferencing equipment, IP surveillance cameras and network devices. We're stocked with everything that small businesses and enterprises need to deploy reliable VoIP and video solutions. A dedicated customer service team and a wide range of available online resources support every product at IP Phone Warehouse.