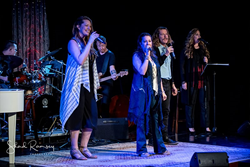 DUNCAN, Okla. (PRWEB) November 01, 2019
This November, the iconic sounds of Carole King, James Taylor, and Carly Simon will all come alive in You've Got A Friend. This thrilling show will pay tribute to some of the greatest music of all time by three of the most beloved musicians in American music history. The full performance will begin at 7:00 PM on November 9, 2019 at the Simmons Center Theatre in Duncan, OK.
Enjoy songs like "It's Too Late", "I Feel the Earth Move", "Fire and Rain", "You're so Vain", "Sweet Baby James" and much more. Amid the great music, you'll also learn interesting facts about three iconic performers whose music is embedded in the very heart of an entire generation. Make plans to attend, sing along, and relive those memories at "You've Got a Friend" featuring DeAwna Wood, Joseph Neville and Stephanie Pruitt.
You've Got A Friend is the second in a series of concerts presented at the Simmons Center by Lion of Texas Entertainment. Tickets are $20.00/person and available at the Simmons Center or online at http://www.lionoftexas.com.