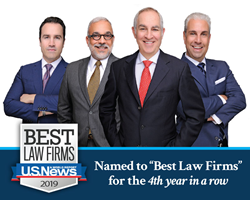 "This — in and of itself — is a significant achievement and we are grateful to have been recognized by peers and clients as a truly industry-leading firm on a nationwide level."
MIAMI (PRWEB) November 13, 2018
Lipcon, Margulies, Alsina & Winkleman, P.A is excited to announce its selection and national ranking as a "Best Law Firm" by US News & World report for its fourth year in a row.
Lipcon said, "This — in and of itself — is a significant achievement and we are grateful to have been recognized by peers and clients as a truly industry-leading firm on a nationwide level."
In naming a Best Law Firm for a particular category, U.S. News and World Report sends out evaluation forms to millions of attorneys and clients. These evaluation forms give peers and customers an opportunity to praise or criticize various aspects of the firm, from expertise to communicativeness to costs, and more.
The award came in conjunction with the August selection of four of Lipcon's attorneys (Charles Lipcon, Jason Margulies, Ricardo Alsina, and Michael Winkleman) to the 2019 Best Lawyers List. Best Lawyers is an independent publication with a similar evaluation form system, though the attorney must first be nominated by their peers before they are evaluated.
LMAW, P.A. is the only plaintiffs' cruise law firm that is nationally-ranked in admiralty and maritime law, with four attorneys also named to Best Lawyers.
Lipcon said, "We believe that there is real value in these awards, as they serve as a mechanism for highlighting firms that provide exceptional, client-oriented legal service…our selection is proof of our commitment to compassionate representation and litigation excellence."
About Lipcon, Margulies, Alsina & Winkleman, P.A.
For over 40 years, LMAW, P.A. has been a dedicated maritime law firm that provides legal assistance to those who have been harmed or victimized in a cruise-related incident. The firm is nationally and internationally recognized for its commitment to bring justice to passengers and crew members.
Contact
Lauren Lipcon
(877) 233-1238