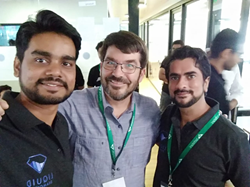 "We have an industry changing technology and getting world class guidance and mentorship through Techstars will shorten our success curve and provide a lasting impact on the company for years to come." Kashyap Mehta, CEO, Liquid Diamonds
BANGALORE, India (PRWEB) May 03, 2019
Today, Liquid Diamonds, a technology startup with a vision to power a global, liquid market for both wholesale and investment diamonds, announced its successful completion of a three month business accelerator at Techstars Bangalore. Liquid Diamonds was one of ten companies out of hundreds of applicants from 30 countries around the world to be selected for participation in Techstars' inaugural mentorship-driven program in India. In addition, this was Techstars' first program dedicated to supporting startups which address emerging market opportunities.
Of the company's successful completion, Liquid Diamonds CEO Kashyap Mehta said, "Being selected to the Techstars Accelerator was an immense accomplishment that our team is very proud of. We have an industry changing technology and getting world class guidance and mentorship through Techstars will shorten our success curve and provide a lasting impact on the company for years to come."
Liquid Diamonds' diamond exchange currently supports upwards of 50 diamond manufacturers with over 220,000 diamonds available for trading every day. Liquid Diamonds has shown consistent transaction volume growth over the past year and is preparing to publicly launch its platform to the worldwide Diamond and Jewelry industry at the annual JCK Las Vegas show at the end of May.
About Liquid Diamonds – Liquid Diamonds is a technology company based in Mumbai, India with offices in New York, NY. Founded in 2016, Liquid Diamonds has developed a patent-protected technology which enables diamonds to be traded between jewelers, wholesalers, and manufacturers utilizing its online platform today. In the future, Liquid Diamonds will power a global diamond trading exchange which will, for the first time, facilitate diamonds to be a liquid asset class like any other commodity.