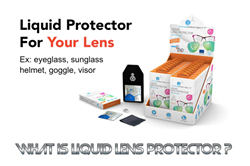 TOKYO (PRWEB) November 27, 2019
Motoki Usui, CEO of One Designs, is delighted to announce today the launch of a Kickstarter crowdfunding campaign for the company's new product called "The Liquid Len Protector". Have you ever had an experience where you buy your favorite sunglasses or eyeglass and accidentally scratch the surface or no matter how many times you wipe the lenses, they still easily get dirty? Not having a solution to this problem can be really frustrating. Liquid lens protector is the one time and every time solution that gives the lens 4 resistant effects against Scratch, Dirt, Water, Bacteria. This revolutionary "protective liquid" works on lenses such as eyeglasses, sunglasses, goggles.
The effects of this protector on the lens is so awesome, it gives the lens 9H hardness, thereby preventing it from micro-scratches daily, It also excellently prevents finger marks, grease, and pollution on user's lens; it enables a clearer vision and cleanness even during rainy days. Finally, it is an outstanding antibacterial that reduces 95% of bacteria which can cause conjunctivitis and dermatological and epidermal problems. Liquid lens protector is to be applied on the surface of lenses. It has a crystal structure to a very strong crystal (quartz) and has a chemical protection function.
Clients don't have to hire a technician or struggle to apply the lens protector; here are three simple steps to apply the lens protector:

It is important to first clean the surface of the lens with an alcohol wipe, in order to take away any form of dirt or impediment.
Now "APPLY" the entire protective NanoProtectPlus liquid lens and spread it over the entire surface. (*Wait for minimum 1 hour or more while the nanoparticles penetrate.)
Finally "POLISH" the surface with the microfiber wipe.
Then, the lenses and visors are now protected, clear and cleaned!
Motoki Usui said "In Japan, we always perform "inspection" thousand times. There are so many processes of quality verification before selling. And, I believe, this "Japanese inspection" is a big key to both the quality of products and customer satisfaction. So, I confidently produce this "amazing product" (Liquid Lens Protector) made in Germany with "Japanese inspection" to make you satisfied and much more cool"
The company has launched a Kickstarter campaign that will support the manufacture, marketing, and distribution of Liquid Lens Protector on a worldwide scale. All funds raised from this platform will cover the costs the company has as they offer the Lens Protector to consumers worldwide.
Feel free to check the Kickstarter Campaign page, read and learn more about this product: https://www.kickstarter.com/projects/632900457/protect-your-lens-from-dirt-and-scratch-with-4-effects-0?ref=project_build